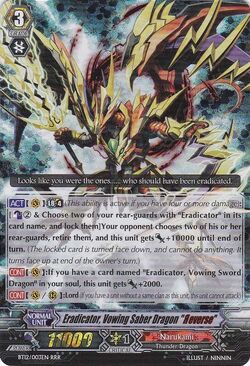 See also: Reverse (phenomenon).
"Яeverse" ("Я" Ribāsu) is a series of grade 3 cards seen in different clans, most of them being Cross Rides. They were introduced in Booster Set 12: Binding Force of the Black Rings.
They all have a striking mutual feature in their artwork, they all hold the black rings, this is to signify their corruption by Link Joker. Also, the letter Я has a distinct red outline that all the other characters do not have. So far, they are the only non-Link Joker units to be able to lock.
"Яeverse" units locks their own rear-guards to gain huge advantages, and unlike Link Joker, they can't unlock the units that they have locked.
List of "Яeverse" Cards
| Card Name | Clan | Race | Type |
| --- | --- | --- | --- |
| Cleanup Celestial, Ramiel "Яeverse" | Angel Feather | Angel | |
| Blue Storm Karma Dragon, Maelstrom "Яeverse" | Aqua Force | Tear Dragon | |
| Demon Marquis, Amon "Яeverse" | Dark Irregulars | Demon | |
| Dark Dimensional Robo, "Яeverse" Daiyusha | Dimension Police | Battleroid | |
| Ice Prison Hades Emperor, Cocytus "Яeverse" | Granblue | Skeleton | |
| School Punisher, Leo-pald "Яeverse" | Great Nature | High Beast | |
| Dauntless Dominate Dragon "Яeverse" | Kagero | Flame Dragon | |
| Dragonic Overlord "The Яe-birth" | Kagero | Flame Dragon | |
| Star-vader, "Яeverse" Cradle | Link Joker | Cyber Golem | |
| Covert Demonic Dragon, Hyakki Vogue "Яeverse" | Murakumo | Abyss Dragon | |
| Eradicator, Vowing Saber Dragon "Яeverse" | Narukami | Thunder Dragon | |
| Maiden of Venus Trap "Яeverse" | Neo Nectar | Bioroid | |
| Deadliest Beast Deity, Ethics Buster "Яeverse" | Nova Grappler | Battleroid | |
| Silver Thorn Dragon Queen, Luquier "Яeverse" | Pale Moon | Elf | |
| Broken Heart Jewel Knight, Ashlei "Яeverse" | Royal Paladin | Human | |
Supports
Link Joker
Grade 0
Grade 1
Grade 2
Grade 3
Grade 4
---