Ad blocker interference detected!
Wikia is a free-to-use site that makes money from advertising. We have a modified experience for viewers using ad blockers

Wikia is not accessible if you've made further modifications. Remove the custom ad blocker rule(s) and the page will load as expected.
Descent of the King of Knights
is the 1st
Booster Set
released in the Japanese/Korean and English format.
Contents
There are a total of 80 cards (RRR x8, RR x12, R x20, C x40) + SP cards x12 (Parallel).
The package illustration is of Aichi Sendou's King of Knights, Alfred.
The booster's slogan is "Imagine this!! The magnificent Holy Knights!!"
The new clans that are introduced in this set are Nova Grappler, Spike Brothers, Megacolony, Tachikaze, Nubatama, Granblue, Dark Irregulars and Oracle Think Tank, .
Focuses on Royal Paladin, Kagerō, Oracle Think Tank, Nova Grappler cards that were featured and used in the anime series, from Episode 1 to Episode 13.
Illustrators
伊藤彰/DaisukeIzuka/funbolt/hippo/Hirokorin/koji/Kou Takano/Mがんぢー/Ryo-ta.H/S.of.L/ToMo/yum/安達洋介/コガラツ/スズキゴロウ/タイキ/タカヤマトシアキ/たにめそ/辻野芳輝/のば/パトリシア/村瀬倫太郎/竜徹/開田裕治/丸山浩/強化新型yutori/三好載克/山崎太郎/山宗/山崎奈苗/春乃壱/松井勝法/松島一夫/森チャック/石田バル/前河悠一/増田幹生/村山竜大/村枝賢一/天神英貴/萩谷薫/百瀬寿/武井宏之/米谷尚展/碧風羽/明貴美加/鷲尾直弘.
Video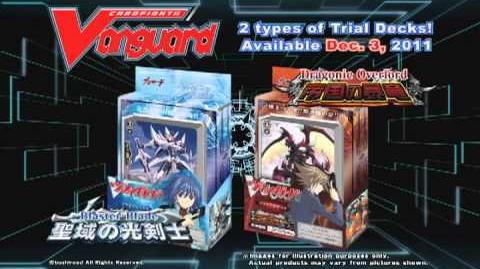 Card List
| Code | Name | Grade | Clan | Trigger | Rarity |
| --- | --- | --- | --- | --- | --- |
| BT01/001 | King of Knights, Alfred | 3 | Royal Paladin | | RRR + SP |
| BT01/002 | Blaster Blade | 2 | Royal Paladin | | RRR + SP |
| BT01/003 | Barcgal | 0 | Royal Paladin | | RRR + SP |
| BT01/004 | Dragonic Overlord | 3 | Kagerō | | RRR + SP |
| BT01/005 | Embodiment of Victory, Aleph | 3 | Kagerō | | RRR |
| BT01/006 | CEO Amaterasu | 3 | Oracle Think Tank | | RRR + SP |
| BT01/007 | Battle Sister, Cocoa | 1 | Oracle Think Tank | | RRR + SP |
| BT01/008 | Asura Kaiser | 3 | Nova Grappler | | RRR + SP |
| BT01/009 | Demon Slaying Knight, Lohengrin | 3 | Royal Paladin | | RR |
| BT01/010 | Solitary Knight, Gancelot | 3 | Royal Paladin | | RR + SP |
| BT01/011 | Flash Shield, Iseult | 1 | Royal Paladin | | RR |
| BT01/012 | Future Knight, Llew | 0 | Royal Paladin | Critical | RR |
| BT01/013 | Vortex Dragon | 3 | Kagerō | | RR + SP |
| BT01/014 | Dragon Knight, Aleph | 2 | Kagerō | | RR |
| BT01/015 | Wyvern Guard, Barri | 1 | Kagerō | | RR |
| BT01/016 | Lizard Soldier, Conroe | 0 | Kagerō | | RR |
| BT01/017 | Maiden of Libra | 2 | Oracle Think Tank | | RR + SP |
| BT01/018 | Battle Sister, Mocha | 2 | Oracle Think Tank | | RR |
| BT01/019 | Battle Sister, Chocolat | 1 | Oracle Think Tank | | RR |
| BT01/020 | Juggernaut Maximum | 3 | Spike Brothers | | RR |
| BT01/021 | Knight of Silence, Gallatin | 2 | Royal Paladin | | R |
| BT01/022 | Dragon Knight, Nehalem | 2 | Kagerō | | R |
| BT01/023 | Wyvern Strike, Tejas | 2 | Kagerō | | R |
| BT01/024 | Embodiment of Spear, Tahr | 0 | Kagerō | Critical | R |
| BT01/025 | Oracle Guardian, Apollon | 3 | Oracle Think Tank | | R |
| BT01/026 | Oracle Guardian, Wiseman | 2 | Oracle Think Tank | | R |
| BT01/027 | Lozenge Magus | 0 | Oracle Think Tank | Heal | R + SP |
| BT01/028 | Mr. Invincible | 3 | Nova Grappler | | R |
| BT01/029 | Brutal Jack | 2 | Nova Grappler | | R |
| BT01/030 | King of Sword | 2 | Nova Grappler | | R |
| BT01/031 | Queen of Heart | 1 | Nova Grappler | | R |
| BT01/032 | Battleraizer | 0 | Nova Grappler | Stand | R + SP |
| BT01/033 | Tyrant, Deathrex | 3 | Tachikaze | | R |
| BT01/034 | Assault Dragon, Blightops | 2 | Tachikaze | | R |
| BT01/035 | Stealth Dragon, Voidmaster | 3 | Nubatama | | R |
| BT01/036 | Demon Eater | 3 | Dark Irregulars | | R |
| BT01/037 | Monster Frank | 3 | Granblue | | R |
| BT01/038 | Commodore Blueblood | 2 | Granblue | | R |
| BT01/039 | Hell Spider | 3 | Megacolony | | R |
| BT01/040 | Bloody Hercules | 2 | Megacolony | | R |
| BT01/041 | Covenant Knight, Randolf | 2 | Royal Paladin | | C |
| BT01/042 | Little Sage, Marron | 1 | Royal Paladin | | C |
| BT01/043 | Lake Maiden, Lien | 1 | Royal Paladin | | C |
| BT01/044 | Wingal | 1 | Royal Paladin | | C |
| BT01/045 | Weapons Dealer, Govannon | 0 | Royal Paladin | Draw | C |
| BT01/046 | Flogal | 0 | Royal Paladin | Stand | C |
| BT01/047 | Yggdrasil Maiden, Elaine | 0 | Royal Paladin | Heal | C |
| BT01/048 | Embodiment of Armor, Bahr | 1 | Kagerō | | C |
| BT01/049 | Dragon Monk, Gojo | 1 | Kagerō | | C |
| BT01/050 | Wyvern Strike, Jarran | 1 | Kagerō | | C |
| BT01/051 | Dragon Dancer, Monica | 0 | Kagerō | Draw | C |
| BT01/052 | Lizard Soldier, Ganlu | 0 | Kagerō | Stand | C |
| BT01/053 | Dragon Monk, Genjo | 0 | Kagerō | Heal | C |
| BT01/054 | Oracle Guardian, Gemini | 1 | Oracle Think Tank | | C |
| BT01/055 | Weather Girl, Milk | 1 | Oracle Think Tank | | C |
| BT01/056 | Oracle Guardian, Nike | 0 | Oracle Think Tank | Critical | C |
| BT01/057 | Dream Eater | 0 | Oracle Think Tank | Draw | C |
| BT01/058 | Miracle Kid | 0 | Oracle Think Tank | Draw | C |
| BT01/059 | Hungry Dumpty | 2 | Nova Grappler | | C |
| BT01/060 | Tough Boy | 1 | Nova Grappler | | C |
| BT01/061 | Screamin' and Dancin' Announcer, Shout | 1 | Nova Grappler | | C |
| BT01/062 | Clay-doll Mechanic | 1 | Nova Grappler | | C |
| BT01/063 | Shining Lady | 0 | Nova Grappler | Critical | C |
| BT01/064 | Lucky Girl | 0 | Nova Grappler | Stand | C |
| BT01/065 | Ring Girl, Clara | 0 | Nova Grappler | Heal | C |
| BT01/066 | Sonic Noa | 1 | Tachikaze | | C |
| BT01/067 | Ironclad Dragon, Shieldon | 0 | Tachikaze | | C |
| BT01/068 | Stealth Beast, Chigasumi | 2 | Nubatama | | C |
| BT01/069 | Stealth Dragon, Dreadmaster | 1 | Nubatama | | C |
| BT01/070 | Stealth Beast, Hagakure | 0 | Nubatama | | C |
| BT01/071 | Blue Dust | 2 | Dark Irregulars | | C |
| BT01/072 | Nightmare Baby | 1 | Dark Irregulars | | C |
| BT01/073 | Rock the Wall | 0 | Dark Irregulars | | C |
| BT01/074 | Highspeed, Brakki | 2 | Spike Brothers | | C |
| BT01/075 | Wonder Boy | 1 | Spike Brothers | | C |
| BT01/076 | Redshoe, Milly | 0 | Spike Brothers | | C |
| BT01/077 | Dandy Guy, Romario | 1 | Granblue | | C |
| BT01/078 | Guiding Zombie | 0 | Granblue | | C |
| BT01/079 | Karma Queen | 1 | Megacolony | | C |
| BT01/080 | Madame Mirage | 0 | Megacolony | | C |
Clan/Grade Breakdown