Ad blocker interference detected!
Wikia is a free-to-use site that makes money from advertising. We have a modified experience for viewers using ad blockers

Wikia is not accessible if you've made further modifications. Remove the custom ad blocker rule(s) and the page will load as expected.
Onslaught of Dragon Souls is the 2nd Booster Set released in the Japanese/Korean and English format.
Contents
There are a total of 80 different cards (8x RRR, 12x RR, 20x R, 40x C) + 12x SP (Parallel).
Includes further support for the Royal Paladin, Kagerō, Oracle Think Tank, Nova Grappler, Tachikaze, Megacolony, Spike Brothers, Granblue clans.
Introduces the Bermuda Triangle and Great Nature clan.
The package illustration is of Toshiki Kai with Blazing Core Dragon, Iron Tail Dragon, and Gattling Claw Dragon.
The booster's slogan is "Image this! The fight between rampaging dragons!".
Illustrators
伊藤彰/Daisuke Izuka/Eel/funbolt/hippo/Hirokorin/KEI/koji/Ryo-ta.H/ToMo/touge666/uni/ZB/安達洋介/杏仁豆腐/石田バル/木下勇樹/強化新型yutori/窪之内英策/齋藤直葵/志緒野博/スズキゴロウ/タイキ/タカヤマトシアキ/武井宏之/竹浪秀行/田所哲平/たにめそ/辻野芳輝/のば/萩谷薫/春乃壱/松井勝法/松島一夫/前河悠一/前田ヒロユキ/増田幹生/碧風羽/村瀬倫太郎/百瀬寿/山宗/山崎太郎/山宗/山中虎徹/山崎奈苗/由利真珠郎/ヨウイチ/ヨシザワ/モレシャン/米谷尚展/竜徹
Video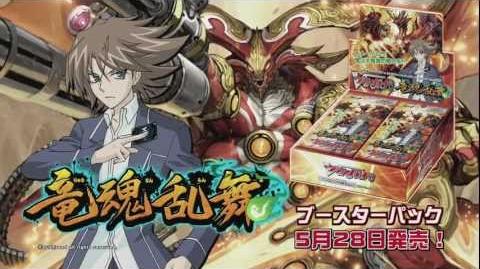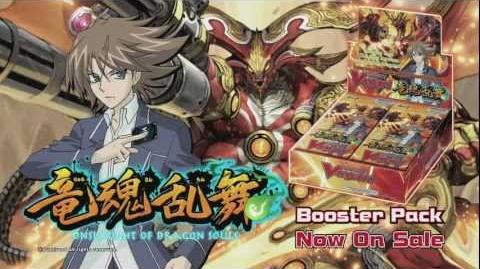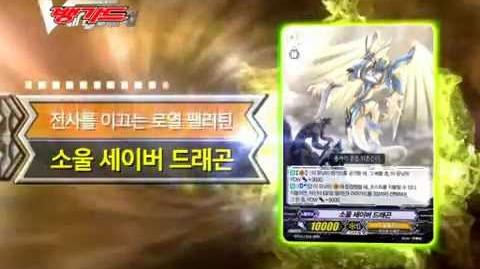 Card List
| Code | Name | Grade | Clan | Trigger | Rarity |
| --- | --- | --- | --- | --- | --- |
| BT02/001 | Sky Diver | 3 | Spike Brothers | | RRR+SP |
| BT02/002 | Spirit Exceed | 3 | Granblue | | RRR+SP |
| BT02/003 | Ruin Shade | 2 | Granblue | | RRR+SP |
| BT02/004 | Soul Saver Dragon | 3 | Royal Paladin | | RRR+SP |
| BT02/005 | Blazing Flare Dragon | 3 | Kagerō | | RRR+SP |
| BT02/006 | Seal Dragon, Blockade | 3 | Kagerō | | RRR+SP |
| BT02/007 | Scarlet Witch, CoCo | 3 | Oracle Think Tank | | RRR+SP |
| BT02/008 | Lion Heat | 3 | Nova Grappler | | RRR+SP |
| BT02/009 | General Seifried | 3 | Spike Brothers | | RR+SP |
| BT02/010 | Cheer Girl, Marilyn | 1 | Spike Brothers | | RR |
| BT02/011 | King of Demonic Seas, Basskirk | 3 | Granblue | | RR |
| BT02/012 | Witch Doctor of the Abyss, Negromarl | 3 | Granblue | | RR+SP |
| BT02/013 | Captain Nightmist | 2 | Granblue | | RR |
| BT02/014 | Gust Jinn | 1 | Granblue | | RR |
| BT02/015 | Young Pegasus Knight | 1 | Royal Paladin | | RR |
| BT02/016 | Chain-attack Sutherland | 2 | Kagerō | | RR |
| BT02/017 | Silent Tom | 2 | Oracle Think Tank | | RR |
| BT02/018 | Magician Girl, Kirara | 2 | Nova Grappler | | RR |
| BT02/019 | Twin Blader | 1 | Nova Grappler | | RR |
| BT02/020 | Top Idol, Flores | 3 | Bermuda Triangle | | RR +SP |
| BT02/021 | Unite Attacker | 3 | Spike Brothers | | R |
| BT02/022 | Treasured, Black Panther | 2 | Spike Brothers | | R |
| BT02/023 | Dudley Dan | 1 | Spike Brothers | | R |
| BT02/024 | Mecha Trainer | 0 | Spike Brothers | | R |
| BT02/025 | Dancing Cutlass | 1 | Granblue | | R |
| BT02/026 | Chappie the Ghostie | 0 | Granblue | | R |
| BT02/027 | Gigantech Charger | 3 | Royal Paladin | | R |
| BT02/028 | Great Sage, Barron | 2 | Royal Paladin | | R |
| BT02/029 | High Dog Breeder, Akane | 2 | Royal Paladin | | R |
| BT02/030 | Pongal | 1 | Royal Paladin | | R |
| BT02/031 | Blazing Core Dragon | 2 | Kagerō | | R |
| BT02/032 | Demonic Dragon Mage, Kimnara | 1 | Kagerō | | R |
| BT02/033 | Luck Bird | 1 | Oracle Think Tank | | R |
| BT02/034 | Winged Dragon, Skyptero | 1 | Tachikaze | | R |
| BT02/035 | Dragon Egg | 0 | Tachikaze | | R |
| BT02/036 | Top Idol, Aqua | 2 | Bermuda Triangle | | R+SP |
| BT02/037 | Bermuda Triangle Cadet, Caravel | 0 | Bermuda Triangle | | R |
| BT02/038 | Master Fraude | 3 | Megacolony | | R |
| BT02/039 | Scientist Monkey Rue | 3 | Great Nature | | R |
| BT02/040 | Geograph Giant | 2 | Great Nature | | R |
| BT02/041 | Panzer Gale | 2 | Spike Brothers | | C |
| BT02/042 | Devil Summoner | 2 | Spike Brothers | | C |
| BT02/043 | Cyclone Blitz | 1 | Spike Brothers | | C |
| BT02/044 | Spike Brothers Assault Squad | 1 | Spike Brothers | | C |
| BT02/045 | Sonic Breaker | 0 | Spike Brothers | Critical | C |
| BT02/046 | Cheerful Lynx | 0 | Spike Brothers | Draw | C |
| BT02/047 | Cheer Girl, Tiara | 0 | Spike Brothers | Heal | C |
| BT02/048 | Silence Joker | 0 | Spike Brothers | Critical | C |
| BT02/049 | Skeleton Swordsman | 2 | Granblue | | C |
| BT02/050 | Samurai Spirit | 1 | Granblue | | C |
| BT02/051 | Evil Shade | 1 | Granblue | | C |
| BT02/052 | Knight Spirit | 0 | Granblue | Critical | C |
| BT02/053 | Skeleton Lookout | 0 | Granblue | Stand | C |
| BT02/054 | Rick the Ghostie | 0 | Granblue | Heal | C |
| BT02/055 | Rough Seas Banshee | 0 | Granblue | Critical | C |
| BT02/056 | Knight of Truth, Gordon | 2 | Royal Paladin | | C |
| BT02/057 | Soul Guiding Elf | 1 | Royal Paladin | | C |
| BT02/058 | Pixy Fife and Drum | 0 | Royal Paladin | Stand | C |
| BT02/059 | Margal | 0 | Royal Paladin | Draw | C |
| BT02/060 | Dragon Knight, Berger | 2 | Kagerō | | C |
| BT02/061 | Iron Tail Dragon | 1 | Kagerō | | C |
| BT02/062 | Follower, Reas | 1 | Kagerō | | C |
| BT02/063 | Lizard Runner, Nafd | 0 | Kagerō | Stand | C |
| BT02/064 | Gattling Claw Dragon | 0 | Kagerō | Draw | C |
| BT02/065 | Security Guardian | 2 | Oracle Think Tank | | C |
| BT02/066 | One Who Gazes at the Truth | 1 | Oracle Think Tank | | C |
| BT02/067 | Emergency Alarmer | 0 | Oracle Think Tank | Stand | C |
| BT02/068 | Psychic Bird | 0 | Oracle Think Tank | Critical | C |
| BT02/069 | Chaos Dragon, Dinochaos | 3 | Tachikaze | | C |
| BT02/070 | Cannon Fire Dragon, Cannon Gear | 2 | Tachikaze | | C |
| BT02/071 | NGM Prototype | 2 | Nova Grappler | | C |
| BT02/072 | Cray Soldier | 1 | Nova Grappler | | C |
| BT02/073 | Three Minutes | 0 | Nova Grappler | Draw | C |
| BT02/074 | Red Lightning | 0 | Nova Grappler | Critical | C |
| BT02/075 | Blazer Idols | 1 | Bermuda Triangle | | C |
| BT02/076 | Lady Bomb | 2 | Megacolony | | C |
| BT02/077 | Phantom Black | 1 | Megacolony | | C |
| BT02/078 | Megacolony Battler A | 0 | Megacolony | | C |
| BT02/079 | Silver Wolf | 1 | Great Nature | | C |
| BT02/080 | Intelli-mouse | 0 | Great Nature | | C |
Clan/Grade Breakdown