Booster Set 4: Eclipse of Illusionary Shadows
Comments

466
4,396pages on
this wiki
VG-BT04 Eclipse of Illusionary Shadows



OCG Name:

虚影神蝕 (きょえいしんしょく)

Phonetic:

Kyoei Shinshoku

Translation:

Eclipse of Illusionary Shadows

Release Date:

October 29th, 2011(JP)
December 8th, 2012(EN, Singapore)
December 14th, 2012(EN, International)

Set Gallery English

Set Gallery Japanese

Set Gallery Korean

Previous Set:

Next Set:
Eclipse of Illusionary Shadows is the 4th Booster Set.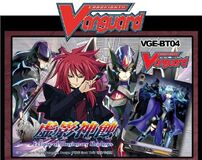 There are a Total of 80 different cards (8x RRR, 12x RR, 20x R, 40x C) + 12x SP (Parallel). 2 additional R cards are included in the English version.
The package illustration is of Ren Suzugamori with Blaster Dark, Blaster Javelin, Fullbau and Darkside Trumpeter.
The booster's slogan is "Followers of the Empty Power, now gather here…"
This is the first booster to only introduce 1 new clan, and feature support for 5 existing clans instead.
More Trigger Units are included, making pure «Shadow Paladin », «Dimension Police » and «Megacolony » decks possible.
The shininess of the R cards have changed once again, but RRR and SP rarity cards remained the same as Demonic Lord Invasion's.
First card (Phantom Blaster Dragon) to have an alternate art for its SP version since Descent of the King of Knights, is included in this set.
Boxes of the first prints come with a deck separator of one of the following 8: Phantom Blaster Dragon (SP art), Blaster Dark, Black Sage, Charon, Enigman Storm, Elite Phantom, Giraffa, Amber Dragon "Eclipse", Blaukruger or Fang of Light, Garmore.
This set includes 6 different Clans. There are cards from Shadow Paladin, Dimension Police, Kagerō, Nova Grappler, Royal Paladin and Megacolony.
Illustrators
Edit
伊藤彰/Azusa/Daisuke Izuka/funbolt/hippo/Hirokorin/KEI/koji/Kou Takano/Morechand/NINNIN/Ryo-ta.H/THORES柴本/ToMo/touge666/ZB/安達洋介/雨宮慶太/伊咲ウタ/石田バル/イトウヨウイチ/叶之明/木下勇樹/強化新型yutori/コガラツ/齋藤タヶオ/齋藤直葵/スズキゴロウ/タイキ/タカヤマトシアキ/田所哲平/茶壱/天神英貴/なかざき冬/西村キヌ/萩谷薫/隼優紀?/前河悠一/前田ヒロユキ/増田幹生/丸山浩/碧風羽/三好載克/村瀬倫太郎/瞑丸イヌチヨ/百瀬寿/森チャック/山崎太郎/由利真珠郎/米谷尚展/竜徹
Card List
Edit
| | | | | | |
| --- | --- | --- | --- | --- | --- |
| Card | Name | Grade | Clan | Trigger | Rarity |
| BT04/001 | Phantom Blaster Dragon | 3 | Shadow Paladin | | RRR + SP |
| BT04/002 | Darkness Maiden, Macha | 2 | Shadow Paladin | | RRR + SP |
| BT04/003 | Skull Witch, Nemain | 2 | Shadow Paladin | | RRR + SP |
| BT04/004 | Enigman Storm | 3 | Dimension Police | | RRR + SP |
| BT04/005 | Evil Armor General, Giraffa | 3 | Megacolony | | RRR + SP |
| BT04/006 | Amber Dragon, Eclipse | 3 | Kagerō | | RRR + SP |
| BT04/007 | Heatnail Salamander | 1 | Kagerō | | RRR |
| BT04/008 | Stern Blaukluger | 3 | Nova Grappler | | RRR + SP |
| BT04/009 | Dark Metal Dragon | 3 | Shadow Paladin | | RR + SP |
| BT04/010 | Gururubau | 1 | Shadow Paladin | | RR |
| BT04/011 | Dark Shield, Mac Lir | 1 | Shadow Paladin | | RR |
| BT04/012 | Enigman Wave | 2 | Dimension Police | | RR |
| BT04/013 | Cosmo Beak | 2 | Dimension Police | | RR |
| BT04/014 | Diamond Ace | 1 | Dimension Police | | RR |
| BT04/015 | Commander Laurel | 1 | Dimension Police | | RR |
| BT04/016 | Elite Mutant, Giraffa | 2 | Megacolony | | RR |
| BT04/017 | Paralyze Madonna | 1 | Megacolony | | RR |
| BT04/018 | Amber Dragon, Dusk | 2 | Kagerō | | RR + SP |
| BT04/019 | Blaukluger | 2 | Nova Grappler | | RR + SP |
| BT04/020 | Fang of Light, Garmore | 3 | Royal Paladin | | RR + SP |
| BT04/021 | Demon of the Silver Spear, Gusion | 3 | Shadow Paladin | | R |
| BT04/022 | Dark Mage, Badhabh Caar | 3 | Shadow Paladin | | R |
| BT04/023 | Knight of Darkness, Rugos | 2 | Shadow Paladin | | R |
| BT04/024 | Blaster Dark | 2 | Shadow Paladin | | R + SP |
| BT04/025 | Fullbau | 0 | Shadow Paladin | | R |
| BT04/026 | Enigman Rain | 3 | Dimension Police | | R |
| BT04/027 | Twin Order | 2 | Dimension Police | | R |
| BT04/028 | Platinum Ace | 2 | Dimension Police | | R |
| BT04/029 | Cosmo Roar | 1 | Dimension Police | | R |
| BT04/030 | Enigman Flow | 0 | Dimension Police | | R |
| BT04/031 | Death Warden Ant Lion | 3 | Megacolony | | R |
| BT04/032 | Violent Vesper | 3 | Megacolony | | R |
| BT04/033 | Water Gang | 2 | Megacolony | | R |
| BT04/034 | Gloom Flyman | 1 | Megacolony | | R |
| BT04/035 | Larva Mutant, Giraffa | 0 | Megacolony | | R |
| BT04/036 | Lizard Soldier, Raopia | 1 | Kagerō | | R |
| BT04/037 | Amber Dragon, Dawn | 0 | Kagerō | | R |
| BT04/038 | Armored Fairy, Shubiela | 3 | Nova Grappler | | R |
| BT04/039 | Blaujunger | 0 | Nova Grappler | | R |
| BT04/040 | Beast Knight, Garmore | 2 | Royal Paladin | | R |
| BT04/041 | Demon World Castle, DonnerSchlag | 2 | Shadow Paladin | | C |
| BT04/042 | Demon World Castle, Fatalita | 2 | Shadow Paladin | | C |
| BT04/043 | Black Sage, Charon | 1 | Shadow Paladin | | C |
| BT04/044 | Witch of Nostrum, Arianrhod | 1 | Shadow Paladin | | C |
| BT04/045 | Doranbau | 1 | Shadow Paladin | | C |
| BT04/046 | Blaster Javelin | 1 | Shadow Paladin | | C |
| BT04/047 | Zappbau | 0 | Shadow Paladin | | C |
| BT04/048 | Grim Reaper | 0 | Shadow Paladin | Critical | C |
| BT04/049 | Abyss Freezer | 0 | Shadow Paladin | Draw | C |
| BT04/050 | Darkside Trumpeter | 0 | Shadow Paladin | Stand | C |
| BT04/051 | Abyss Healer | 0 | Shadow Paladin | Heal | C |
| BT04/052 | Enigman Shine | 3 | Dimension Police | | C |
| BT04/053 | Enigroid Comrade | 2 | Dimension Police | | C |
| BT04/054 | Enigman Ripple | 1 | Dimension Police | | C |
| BT04/055 | Glory Maker | 1 | Dimension Police | | C |
| BT04/056 | Justice Cobalt | 0 | Dimension Police | Critical | C |
| BT04/057 | Army Penguin | 0 | Dimension Police | Draw | C |
| BT04/058 | Cosmo Fang | 0 | Dimension Police | Stand | C |
| BT04/059 | Justice Rose | 0 | Dimension Police | Heal | C |
| BT04/060 | Ironcutter Beetle | 2 | Megacolony | | C |
| BT04/061 | Tail Joe | 2 | Megacolony | | C |
| BT04/062 | Pupa Mutant, Giraffa | 1 | Megacolony | | C |
| BT04/063 | Stealth Millipede | 1 | Megacolony | | C |
| BT04/064 | Sharp Nail Scorpio | 0 | Megacolony | Critical | C |
| BT04/065 | Raider Mantis | 0 | Megacolony | Draw | C |
| BT04/066 | Sonic Cicada | 0 | Megacolony | Stand | C |
| BT04/067 | Medical Battler, Ranpli | 0 | Megacolony | Heal | C |
| BT04/068 | Garnet Dragon, Flash | 3 | Kagerō | | C |
| BT04/069 | Lava Arm Dragon | 2 | Kagerō | | C |
| BT04/070 | Amber Dragon, Daylight | 1 | Kagerō | | C |
| BT04/071 | Red Gem Carbuncle | 0 | Kagerō | Draw | C |
| BT04/072 | Flame Seed Salamander | 0 | Kagerō | Stand | C |
| BT04/073 | Eisenkugel | 2 | Nova Grappler | | C |
| BT04/074 | Dancing Wolf | 1 | Nova Grappler | | C |
| BT04/075 | Blaupanzer | 1 | Nova Grappler | | C |
| BT04/076 | Toolkit Boy | 1 | Nova Grappler | | C |
| BT04/077 | Fighting Battleship, Prometheus | 0 | Nova Grappler | Critical | C |
| BT04/078 | Grapple Mania | 0 | Nova Grappler | Stand | C |
| BT04/079 | Snogal | 1 | Royal Paladin | | C |
| BT04/080 | Brugal | 0 | Royal Paladin | | C |
Additional cards
Edit
In the English version of this set, the following cards (which were promo cards in the Japanese version) were added:
Clan/Grade Breakdown
Edit