Ad blocker interference detected!
Wikia is a free-to-use site that makes money from advertising. We have a modified experience for viewers using ad blockers

Wikia is not accessible if you've made further modifications. Remove the custom ad blocker rule(s) and the page will load as expected.
Awakening of Twin Blades is the 5th Booster Set released in the Japanese/Korean format, and the 7th released in the English format.
Contents
There are a total of 80 different cards (RRR x8, RR x12, R x20, C x40) + SP cards x12 (Parallel).
Includes further support for the Royal Paladin, Shadow Paladin, Kagerō, Oracle Think Tank, Nova Grappler, Dimension Police, Dark Irregulars, Pale Moon, and Murakumo clans.
Introduces the "Neo Nectar" clan.
The Japanese version introduces the Cross Ride units.
The package illustration features Aichi Sendou, Toshiki Kai and Ren Suzugamori, with Majesty Lord Blaster behind them.
The booster's slogan is "Fight and believe in your own strength".
Illustrators
伊藤彰/Azusa/Daisuke Izuka/Eel/funbolt/Hirokorin/koji/Kou Takano/Morechand/NINNIN/Ryo-ta.H/toi8/ToMo/touge666/uni/ZB/安達洋介/雨宮慶太/伊咲ウタ/石田バル/イトウヨウイチ/叶之明/木下勇樹/米谷尚展/茶壱/齋藤タヶオ/齋藤直葵/沙村 広明/山宗/スズキゴロウ/タイキ/高田明美/タカヤマトシアキ/竹浪秀行/田所哲平/たにめそ/千葉サドル/てるみぃ/萩谷薫/パトリシア/前河悠一/前田ヒロユキ/雅/増田幹生/松島一夫/碧風羽/三好載克/村枝賢一/村瀬倫太郎/村山竜大/瞑丸イヌチヨ/山崎太郎/山﨑奈苗/結城遼也/由利真珠郎/余湖裕輝/竜徹/鷲尾直広
Video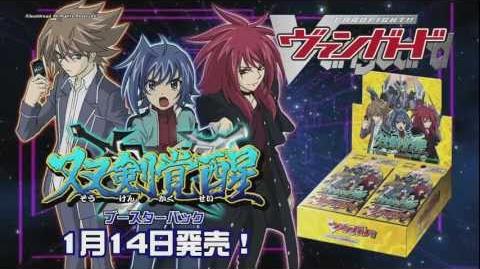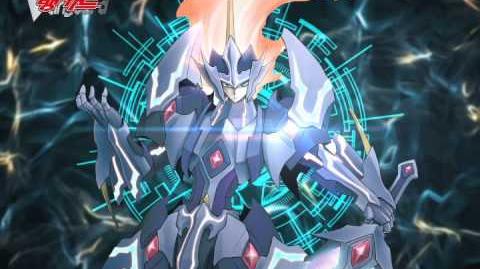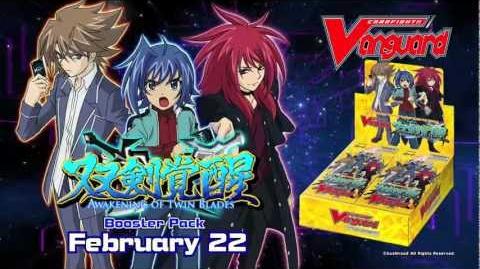 Card List
| Code | Name | Grade | Clan | Trigger | Rarity |
| --- | --- | --- | --- | --- | --- |
| BT05/001 | Covert Demonic Dragon, Mandala Lord | 3 | Murakumo | | RRR+SP |
| BT05/002 | Majesty Lord Blaster | 3 | Royal Paladin | | RRR+SP |
| BT05/003 | Star Call Trumpeter | 2 | Royal Paladin | | RRR+SP |
| BT05/004 | Phantom Blaster Overlord | 3 | Shadow Paladin | | RRR+SP |
| BT05/005 | Dragonic Overlord the End | 3 | Kagerō | | RRR+SP |
| BT05/006 | Miracle Beauty | 3 | Dimension Police |   | RRR+SP |
| BT05/007 | King of Diptera, Beelzebub | 3 | Dark Irregulars | | RRR+SP |
| BT05/008 | Mistress Hurricane | 3 | Pale Moon | | RRR+SP |
| BT05/009 | Maiden of Trailing Rose | 3 | Neo Nectar |   | RR+SP |
| BT05/010 | Glass Beads Dragon | 2 | Neo Nectar |   | RR |
| BT05/011 | Maiden of Blossom Rain | 1 | Neo Nectar |   | RR |
| BT05/012 | Stealth Fiend, Midnight Crow | 2 | Murakumo |   | RR+SP |
| BT05/013 | Stealth Beast, Leaves Mirage | 1 | Murakumo |   | RR |
| BT05/014 | Knight of Loyalty, Bedivere | 2 | Royal Paladin |   | RR |
| BT05/015 | Knight of Friendship, Kay | 1 | Royal Paladin |   | RR |
| BT05/016 | Wingal Brave | 0 | Royal Paladin |   | RR+SP |
| BT05/017 | Moonlight Witch, Vaha | 2 | Shadow Paladin |   | RR |
| BT05/018 | Knight of Nullity, Masquerade | 2 | Shadow Paladin |   | RR+SP |
| BT05/019 | Evil-eye Princess, Euryale | 3 | Oracle Think Tank |   | RR |
| BT05/020 | Street Bouncer | 2 | Nova Grappler |   | RR |
| BT05/021 | Frontline Valkyrie, Laurel | 3 | Neo Nectar |   | R |
| BT05/022 | Knight of Harvest, Gene | 3 | Neo Nectar |   | R |
| BT05/023 | Avatar of the Plains, Behemoth | 3 | Neo Nectar |   | R |
| BT05/024 | Iris Knight | 2 | Neo Nectar |   | R |
| BT05/025 | Hey Yo Pineapple | 2 | Neo Nectar |   | R |
| BT05/026 | Shield Seed Squire | 0 | Neo Nectar |   | R |
| BT05/027 | Stealth Fiend, Kurama Lord | 3 | Murakumo |   | R |
| BT05/028 | Stealth Dragon, Voidgelga | 3 | Murakumo |   | R |
| BT05/029 | Stealth Beast, Bloody Mist | 2 | Murakumo |   | R |
| BT05/030 | Caped Stealth Rogue, Shanaou | 2 | Murakumo |   | R |
| BT05/031 | Stealth Dragon, Cursed Breath | 2 | Murakumo |   | R |
| BT05/032 | Stealth Dragon, Turbulent Edge | 1 | Murakumo |   | R |
| BT05/033 | Stealth Beast, Million Rat | 1 | Murakumo |   | R |
| BT05/034 | Stealth Beast, Evil Ferret | 0 | Murakumo |   | R |
| BT05/035 | Knight of Purgatory, Skull Face | 3 | Shadow Paladin |   | R |
| BT05/036 | Apocalypse Bat | 1 | Shadow Paladin |   | R |
| BT05/037 | Burning Horn Dragon | 2 | Kagerō |   | R |
| BT05/038 | Flame of Promise, Aermo | 1 | Kagerō |   | R |
| BT05/039 | Magical Police Quilt | 1 | Dimension Police |   | R |
| BT05/040 | Devil Child | 1 | Dark Irregulars |   | R |
| BT05/041 | Knight of Verdure, Gene | 2 | Neo Nectar |   | C |
| BT05/042 | Colossal Wings, Simurgh | 2 | Neo Nectar |   | C |
| BT05/043 | Spiritual Tree Sage, Irminsul | 2 | Neo Nectar |   | C |
| BT05/044 | Corolla Dragon | 1 | Neo Nectar |   | C |
| BT05/045 | Caramel Popcorn | 1 | Neo Nectar |   | C |
| BT05/046 | Lady of the Sunlight Forest | 1 | Neo Nectar |   | C |
| BT05/047 | Blade Seed Squire | 1 | Neo Nectar |   | C |
| BT05/048 | Lily Knight of the Valley | 1 | Neo Nectar |   | C |
| BT05/049 | Pea Knight | 0 | Neo Nectar |   | C |
| BT05/050 | Chestnut Bullet | 0 | Neo Nectar | Critical | C |
| BT05/051 | Dancing Sunflower | 0 | Neo Nectar | Draw | C |
| BT05/052 | Sweet Honey | 0 | Neo Nectar | Heal | C |
| BT05/053 | Watering Elf | 0 | Neo Nectar | Stand | C |
| BT05/054 | Stealth Beast, White Mane | 2 | Murakumo |   | C |
| BT05/055 | Stealth Rogue of Silence, Shijimamaru | 1 | Murakumo |   | C |
| BT05/056 | Stealth Beast, Leaf Raccoon | 1 | Murakumo |   | C |
| BT05/057 | Stealth Beast, Moon Edge | 0 | Murakumo | Critical | C |
| BT05/058 | Stealth Beast, Cat Rouge | 0 | Murakumo | Draw | C |
| BT05/059 | Stealth Fiend, Yukihime | 0 | Murakumo | Heal | C |
| BT05/060 | Stealth Fiend, Dart Spider | 0 | Murakumo | Stand | C |
| BT05/061 | Powerful Sage, Bairon | 3 | Royal Paladin |   | C |
| BT05/062 | Dream Painter | 1 | Royal Paladin |   | C |
| BT05/063 | Silent Sage, Sharon | 0 | Royal Paladin | Stand | C |
| BT05/064 | Nightmare Painter | 1 | Shadow Paladin |   | C |
| BT05/065 | Phantom Bringer Demon | 0 | Shadow Paladin |   | C |
| BT05/066 | Death Feather Eagle | 0 | Shadow Paladin | Critical | C |
| BT05/067 | Battle Maiden, Tagitsuhime | 2 | Oracle Think Tank |   | C |
| BT05/068 | White Hare of Inaba | 1 | Oracle Think Tank |   | C |
| BT05/069 | Battle Sister, Ginger | 0 | Oracle Think Tank | Critical | C |
| BT05/070 | Doom Bringer Griffin | 0 | Kagerō |   | C |
| BT05/071 | Top Gun | 3 | Nova Grappler |   | C |
| BT05/072 | Anthrodroid | 1 | Nova Grappler |   | C |
| BT05/073 | The Gong | 0 | Nova Grappler | Draw | C |
| BT05/074 | Super Dimensional Robo, Dailady | 2 | Dimension Police |   | C |
| BT05/075 | Guide Dolphin | 0 | Dimension Police | Stand | C |
| BT05/076 | Dark Soul Conductor | 2 | Dark Irregulars |   | C |
| BT05/077 | Hysteric Shirley | 0 | Dark Irregulars | Draw | C |
| BT05/078 | Big League Bear | 2 | Pale Moon |   | C |
| BT05/079 | Madcap Marionette | 1 | Pale Moon |   | C |
| BT05/080 | Skyhigh Walker | 0 | Pale Moon | Stand | C |
Additional cards
In the English version of this set, the following cards (which were promo cards in the Japanese version) were added:
Clan/Grade Breakdown