VG-BT08 Blue Storm Armada



Japanese Name:

蒼嵐艦隊 (そうらんかんたい)

Phonetic:

Sōran Kantai

Translation:

Blue Storm Armada

Release Date:

September 22nd, 2012 (JP)
May 3, 2013 (EN)

Set Gallery Japanese

Set Gallery English

Previous Set:

Next Set:
Blue Storm Armada is the 8th Booster Set released in the Japanese and English format.
Contents
There are a Total of 102 different cards (RRR x8, RR x12, R x22, C x60) + SP cards x12 (Parallel).
Includes support for Aqua Force, Neo Nectar, Dimension Police, Tachikaze, Narukami and Great Nature.
Initial productions of Japanese BT08, each box will come with a Deck Divider.
Initial productions of English BT08, each carton will come with a Blue Storm Dragon, Maelstrom Playmat.
Booster Draft winners will get a Ultimate Dimensional Robo, Great Daiyusha Playmat.
Initial productions of BT08, there will be a special box which contains Vanguard Soundtrack but you will have to pay extra.
Includes more cards with Limit Break.
Illustrators
Azusa/Eel/Ein/funbolt/Hirokorin/koji/Morechand/Na-Ga/STS/ToMo/touge666/uni/yum/明貴美加/安達洋介/石田バル/えびら/開田裕治/喜久屋めがね/木下勇樹/古賀あずさ/コガラツ/茶壱/齋藤タヶオ/山宗/霜月えいと/ショースケ/スズキゴロウ/春原莉佐/汐山このむ/仙田聡/タイキ/タカヤマトシアキ/田口美穂/田所哲平/たにめそ/辻野芳輝/てるみぃ/天神英貴/なかざき冬/萩谷薫/パトリシア/樋上いたる/前河悠一/前田ヒロユキ/増田幹生/松島一夫/碧風羽/三好載克/村瀬倫太郎/村山竜大/百瀬寿/山崎太郎/山崎奈苗/由利真珠郎/竜徹/鷲尾奈津子
Video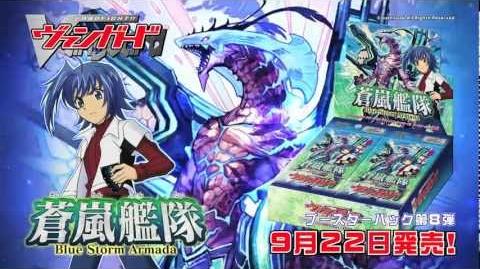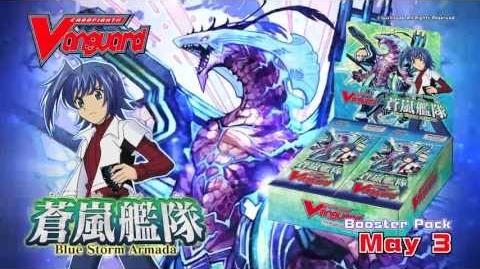 Card List
| Code | Name | Grade | Clan | Trigger | Rarity |
| --- | --- | --- | --- | --- | --- |
| BT08/001 | Ultimate Dimensional Robo, Great Daiyusha | 3 | Dimension Police | | RRR+SP |
| BT08/002 | Galactic Beast, Zeal | 3 | Dimension Police | | RRR+SP |
| BT08/003 | Arboros Dragon, Sephirot | 3 | Neo Nectar | | RRR+SP |
| BT08/004 | White Lily Musketeer, Cecilia | 3 | Neo Nectar | | RRR+SP |
| BT08/005 | Blue Storm Dragon, Maelstrom | 3 | Aqua Force | | RRR+SP |
| BT08/006 | Hydro Hurricane Dragon | 3 | Aqua Force | | RRR+SP |
| BT08/007 | Storm Rider, Basil | 2 | Aqua Force | | RRR+SP |
| BT08/008 | Sealed Demon Dragon, Dungaree | 3 | Narukami | | RRR+SP |
| BT08/009 | Operator Girl, Mika | 2 | Dimension Police | | RR+SP |
| BT08/010 | Dimensional Robo, Daidragon | 2 | Dimension Police | | RR |
| BT08/011 | Cherry Blossom Musketeer, Augusto | 2 | Neo Nectar | | RR |
| BT08/012 | Lily of the Valley Musketeer, Kaivant | 2 | Neo Nectar | | RR |
| BT08/013 | Maiden of Rainbow Wood | 2 | Neo Nectar | | RR+SP |
| BT08/014 | Water Lily Musketeer, Ruth | 1 | Neo Nectar | | RR |
| BT08/015 | Lily of the Valley Musketeer, Rebecca | 1 | Neo Nectar | | RR |
| BT08/016 | Military Dragon, Raptor Colonel | 3 | Tachikaze | | RR+SP |
| BT08/017 | Destruction Dragon, Dark Rex | 3 | Tachikaze | | RR+SP |
| BT08/018 | Tear Knight, Valeria | 2 | Aqua Force | | RR |
| BT08/019 | Emerald Shield, Paschal | 1 | Aqua Force | | RR |
| BT08/020 | Armed Instructor, Bison | 3 | Great Nature | | RR |
| BT08/021 | Enigman Cyclone | 3 | Dimension Police | | R |
| BT08/022 | Lady Justice | 3 | Dimension Police | | R |
| BT08/023 | Subterranean Beast, Magma Lord | 3 | Dimension Police | | R |
| BT08/024 | Devourer of Planets, Zeal | 2 | Dimension Police | | R |
| BT08/025 | Dimensional Robo, Dailander | 1 | Dimension Police | | R |
| BT08/026 | Dimensional Robo, Goyusha | 0 | Dimension Police | | R |
| BT08/027 | Larva Beast, Zeal | 0 | Dimension Police | | R |
| BT08/028 | Arboros Dragon, Timber | 2 | Neo Nectar | | R |
| BT08/029 | Arboros Dragon, Ratoon | 0 | Neo Nectar | | R |
| BT08/030 | Military Dragon, Raptor Captain | 2 | Tachikaze | | R |
| BT08/031 | Winged Dragon, Slashptero | 2 | Tachikaze | | R |
| BT08/032 | Assault Dragon, Pachyphalos | 2 | Tachikaze | | R |
| BT08/033 | Winged Dragon, Beamptero | 1 | Tachikaze | | R |
| BT08/034 | Military Dragon, Raptor Soldier | 0 | Tachikaze | | R |
| BT08/035 | Storm Rider, Diamantes | 3 | Aqua Force | | R |
| BT08/036 | Tear Knight, Lazarus | 2 | Aqua Force | | R |
| BT08/037 | Storm Rider, Eugen | 1 | Aqua Force | | R |
| BT08/038 | Torpedo Rush Dragon | 1 | Aqua Force | | R |
| BT08/039 | Aqua Breath Dracokid | 0 | Aqua Force | | R |
| BT08/040 | Thunder Spear Wielding Exorcist Knight | 2 | Narukami | | R |
| BT08/041 | Compass Lion | 2 | Great Nature | | R |
| BT08/042 | Coiling Duckbill | 1 | Great Nature | | R |
| BT08/043 | Interdimensional Ninja, Tsukikage | 3 | Dimension Police | | C |
| BT08/044 | Cosmic Mothership | 2 | Dimension Police | | C |
| BT08/045 | Cosmic Rider | 2 | Dimension Police | | C |
| BT08/046 | Assault Monster, Gunrock | 2 | Dimension Police | | C |
| BT08/047 | Eye of Destruction, Zeal | 1 | Dimension Police | | C |
| BT08/048 | Dimensional Robo, Daimariner | 1 | Dimension Police | | C |
| BT08/049 | Mysterious Navy Admiral, Gogoth | 1 | Dimension Police | | C |
| BT08/050 | Psychic Grey | 1 | Dimension Police | | C |
| BT08/051 | Speedster | 1 | Dimension Police | | C |
| BT08/052 | Fighting Saucer | 1 | Dimension Police | | C |
| BT08/053 | Warrior of Destiny, Dai | 0 | Dimension Police | | C |
| BT08/054 | Gem Monster, Jewelmine | 0 | Dimension Police | Draw | C |
| BT08/055 | Noise Monster, Decibelon | 0 | Dimension Police | Stand | C |
| BT08/056 | Dissection Monster, Kaizon | 0 | Dimension Police | Heal | C |
| BT08/057 | Dimensional Robo, Daibattles | 0 | Dimension Police | Critical | C |
| BT08/058 | Black Lily Musketeer, Hermann | 3 | Neo Nectar | | C |
| BT08/059 | World Snake, Ouroboros | 3 | Neo Nectar | | C |
| BT08/060 | Exploding Tomato | 3 | Neo Nectar | | C |
| BT08/061 | World Bearing Turtle, Ahkbara | 2 | Neo Nectar | | C |
| BT08/062 | Tulip Musketeer, Almira | 2 | Neo Nectar | | C |
| BT08/063 | Poison Mushroom | 2 | Neo Nectar | | C |
| BT08/064 | Arboros Dragon, Branch | 1 | Neo Nectar | | C |
| BT08/065 | Tulip Musketeer, Mina | 1 | Neo Nectar | | C |
| BT08/066 | Boon Bana-na | 1 | Neo Nectar | | C |
| BT08/067 | Fruits Basket Elf | 1 | Neo Nectar | | C |
| BT08/068 | Broccolini Musketeer, Kirah | 0 | Neo Nectar | | C |
| BT08/069 | Night Queen Musketeer, Daniel | 0 | Neo Nectar | Critical | C |
| BT08/070 | Four Leaf Fairy | 0 | Neo Nectar | Draw | C |
| BT08/071 | Maiden of Morning Glory | 0 | Neo Nectar | Stand | C |
| BT08/072 | Hibiscus Musketeer, Hanah | 0 | Neo Nectar | Heal | C |
| BT08/073 | Savage War Chief | 3 | Tachikaze | | C |
| BT08/074 | Citadel Dragon, Brachiocastle | 3 | Tachikaze | | C |
| BT08/075 | Savage Warlock | 2 | Tachikaze | | C |
| BT08/076 | Carrier Dragon, Brachiocarrier | 2 | Tachikaze | | C |
| BT08/077 | Military Dragon, Raptor Sergeant | 1 | Tachikaze | | C |
| BT08/078 | Savage Magus | 1 | Tachikaze | | C |
| BT08/079 | Fortress Ammonite | 1 | Tachikaze | | C |
| BT08/080 | Transport Dragon, Brachioporter | 1 | Tachikaze | | C |
| BT08/081 | Baby Ptero | 0 | Tachikaze | | C |
| BT08/082 | Dragon Bird, Firepteryx | 0 | Tachikaze | Critical | C |
| BT08/083 | Carry Trilobite | 0 | Tachikaze | Draw | C |
| BT08/084 | Matriarch's Bombardment Beast | 0 | Tachikaze | Stand | C |
| BT08/085 | Ironclad Dragon, Steelsaurus | 0 | Tachikaze | Heal | C |
| BT08/086 | Titan of the Pyroxene Mine | 3 | Aqua Force | | C |
| BT08/087 | Distant Sea Advisor, Vassilis | 3 | Aqua Force | | C |
| BT08/088 | Veteran Strategic Commander | 2 | Aqua Force | | C |
| BT08/089 | Whale Supply Fleet, Kairin Maru | 2 | Aqua Force | | C |
| BT08/090 | Tear Knight, Theo | 1 | Aqua Force | | C |
| BT08/091 | Stream Trooper | 1 | Aqua Force | | C |
| BT08/092 | Reliable Strategic Commander | 1 | Aqua Force | | C |
| BT08/093 | Officer Cadet, Erikk | 0 | Aqua Force | | C |
| BT08/094 | Mothership Intelligence | 0 | Aqua Force | Critical | C |
| BT08/095 | Enemy Seeking Seagull Soldier | 0 | Aqua Force | Stand | C |
| BT08/096 | Black Celestial Maiden, Kali | 3 | Narukami | | C |
| BT08/097 | Dragon Monk, Kinkaku | 2 | Narukami | | C |
| BT08/098 | Lightning Sword Wielding Exorcist Knight | 1 | Narukami | | C |
| BT08/099 | Dragon Monk, Ginkaku | 1 | Narukami | | C |
| BT08/100 | Exorcist Mage, Koh Koh | 0 | Narukami | | C |
| BT08/101 | Mischievous Girl, Kyon-she | 0 | Narukami | Draw | C |
| BT08/102 | Blackboard Parrot | 0 | Great Nature | | C |
Clan/Grade Breakdown