Ad blocker interference detected!
Wikia is a free-to-use site that makes money from advertising. We have a modified experience for viewers using ad blockers

Wikia is not accessible if you've made further modifications. Remove the custom ad blocker rule(s) and the page will load as expected.
Clash of the Knights & Dragons is the 9th Booster Set released in Japanese/Korean format, and in English format.
Contents
There are a Total of 102 different cards (100 new cards + 2 reprinted cards) (RRR x8, RR x12, R x22, C x60) + SP cards x12 (Parallel).
Includes support for Murakumo, Aqua Force, Oracle Think Tank, Nova Grappler, Angel Feather, Great Nature, Gold Paladin, Narukami, Pale Moon, Royal Paladin, and Shadow Paladin.
Includes more Cross Ride cards.
Introduces the Forerunner and Sentinel keywords to Japanese format.
Initial English booster draft winner will receive a playmat.
8 foldable deck cases are included in every carton for the English booster.
Slight graphic change inside cards with abilities in the English format.
Illustrators
Azusa/Daisuke Izuka/Hirokorin/Kou Takano/Morechand/MORUGA/NINNIN/STS/ToMo/touge666/TOUMA/yum/安達洋介/伊咲ウタ/伊藤彰/イトウヨウイチ/伊倉ナギサ/叶之明/樹人/古賀あずさ/コガラツ/茶壱/齋藤タヶオ/山宗/東雲ルリヲ/ショースケ/スズキゴロウ/春原莉佐/タカヤマトシアキ/田口美穂/田所哲平/たにめそ/てるみぃ/天神英貴/ともひと/なかざき冬/萩谷薫/パトリシア/ひと和/前河悠一/前田ヒロユキ/増田幹生/松島一夫/碧風羽/三好載克/村山竜大/瞑丸イヌチヨ/山崎奈苗/結城遼也/竜徹
Video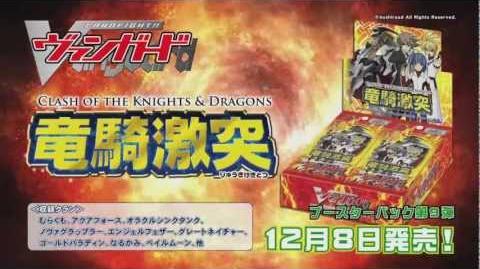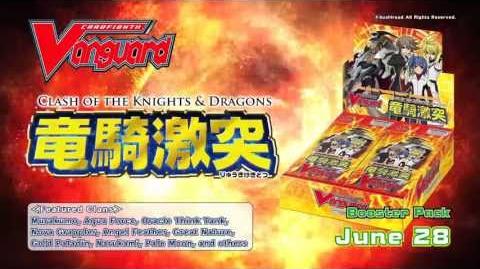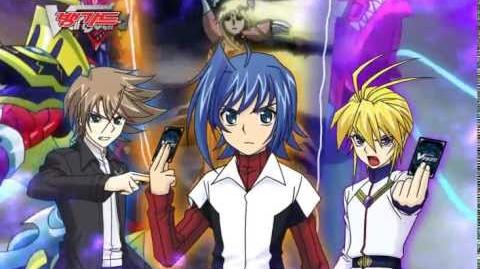 Card List
| Code | Name | Grade | Clan | Trigger | Rarity |
| --- | --- | --- | --- | --- | --- |
| BT09/001 | Covert Demonic Dragon, Magatsu Storm | 3 | Murakumo | | RRR+SP |
| BT09/002 | Blue Storm Supreme Dragon, Glory Maelstrom | 3 | Aqua Force | | RRR+SP |
| BT09/003 | Goddess of the Sun, Amaterasu | 3 | Oracle Think Tank | | RRR+SP |
| BT09/004 | Ultra Beast Deity, Illuminal Dragon | 3 | Nova Grappler | | RRR+SP |
| BT09/005 | Crimson Impact, Metatron | 3 | Angel Feather | | RRR+SP |
| BT09/006 | Blazing Lion, Platina Ezel | 3 | Gold Paladin | | RRR+SP |
| BT09/007 | Conviction Dragon, Chromejailer Dragon | 3 | Gold Paladin | | RRR+SP |
| BT09/008 | Dragonic Kaiser Vermillion "THE BLOOD" | 3 | Narukami | | RRR+SP |
| BT09/009 | Fantasy Petal Storm, Shirayuki | 3 | Murakumo | | RR |
| BT09/010 | Platinum Blond Fox Spirit, Tamamo | 3 | Murakumo | | RR |
| BT09/011 | Tri-stinger Dragon | 3 | Aqua Force | | RR |
| BT09/012 | Battle Sister, Cookie | 3 | Oracle Think Tank | | RR+SP |
| BT09/013 | Battler of the Twin Brush, Polaris | 3 | Great Nature | | RR |
| BT09/014 | Halo Shield, Mark | 1 | Gold Paladin | | RR |
| BT09/015 | Lord of the Demonic Winds, Vayu | 3 | Narukami | | RR |
| BT09/016 | Wyvern Guard, Guld | 1 | Narukami | | RR |
| BT09/017 | Starlight Melody Tamer, Farah | 3 | Pale Moon | | RR+SP |
| BT09/018 | Nightmare Summoner, Raqiel | 3 | Pale Moon | | RR |
| BT09/019 | Blaster Blade Spirit | 2 | Royal Paladin | | RR+SP |
| BT09/020 | Blaster Dark Spirit | 2 | Shadow Paladin | | RR+SP |
| BT09/021 | Stealth Dragon, Magatsu Gale | 2 | Murakumo | | R |
| BT09/022 | Stealth Fiend, Oboro Cart | 1 | Murakumo | | R |
| BT09/023 | Stealth Dragon, Magatsu Wind | 0 | Murakumo | | R |
| BT09/024 | Storm Rider, Lysander | 3 | Aqua Force | | R |
| BT09/025 | Storm Rider, Damon | 2 | Aqua Force | | R |
| BT09/026 | Battle Siren, Theresa | 2 | Aqua Force | | R |
| BT09/027 | Storm Rider, Nicolas | 1 | Aqua Force | | R |
| BT09/028 | Tri-holl Dracokid | 0 | Aqua Force | | R |
| BT09/029 | Battle Deity, Susanoo | 2 | Oracle Think Tank | | R |
| BT09/030 | Battle Maiden, Sayorihime | 1 | Oracle Think Tank | | R |
| BT09/031 | Beast Deity, Yamatano Drake | 3 | Nova Grappler | | R |
| BT09/032 | Hollow Nomad | 3 | Nova Grappler | | R |
| BT09/033 | Beast Deity, Golden Anglet | 2 | Nova Grappler | | R |
| BT09/034 | Beast Deity, Blank Marsh | 1 | Nova Grappler | | R |
| BT09/035 | Mobile Hospital, Elysium | 3 | Angel Feather | | R |
| BT09/036 | Knight of Passion, Bagdemagus | 2 | Gold Paladin | | R |
| BT09/037 | Advance of the Black Chains, Kahedin | 1 | Gold Paladin | | R |
| BT09/038 | Dreaming Sage, Corron | 0 | Gold Paladin | | R |
| BT09/039 | Dusty Plasma Dragon | 2 | Narukami | | R |
| BT09/040 | Exorcist Demonic Dragon, Indigo | 1 | Narukami | | R |
| BT09/041 | Barking Wyvern | 3 | Pale Moon | | R |
| BT09/042 | Fire Juggler | 1 | Pale Moon | | R |
| BT09/043 | Spiked Club Stealth Rogue, Arahabaki | 3 | Murakumo | | C |
| BT09/044 | Stealth Beast, Gigantoad | 3 | Murakumo | | C |
| BT09/045 | Stealth Dragon, Royale Nova | 2 | Murakumo | | C |
| BT09/046 | Stealth Beast, Spell Hound | 2 | Murakumo | | C |
| BT09/047 | Stealth Rogue of Summoning, Jiraiya | 1 | Murakumo | | C |
| BT09/048 | Stealth Dragon, Magatsu Breath | 1 | Murakumo | | C |
| BT09/049 | Stealth Beast, Night Panther | 1 | Murakumo | | C |
| BT09/050 | Stealth Beast, Flame Fox | 1 | Murakumo | | C |
| BT09/051 | Stealth Rogue of Body Replacement, Kokuenmaru | 0 | Murakumo | | C |
| BT09/052 | Fox Tamer, Izuna | 0 | Murakumo | Critical | C |
| BT09/053 | Stealth Fiend, Monster Lantern | 0 | Murakumo | Draw | C |
| BT09/054 | Stealth Fiend, Rokuro Lady | 0 | Murakumo | Draw | C |
| BT09/055 | Stealth Fiend, Karakasa Spirit | 0 | Murakumo | Stand | C |
| BT09/056 | Stealth Fiend, River Child | 0 | Murakumo | Heal | C |
| BT09/057 | Stealth Beast, Cat Devil | 0 | Murakumo | Critical | C |
| BT09/058 | Deck Sweeper | 1 | Aqua Force | | C |
| BT09/059 | Light Signals Penguin Soldier | 1 | Aqua Force | | C |
| BT09/060 | Officer Cadet, Astraea | 0 | Aqua Force | | C |
| BT09/061 | Pyroxene Beam Blue Dragon Soldier | 0 | Aqua Force | Stand | C |
| BT09/062 | Supersonic Sailor | 0 | Aqua Force | Critical | C |
| BT09/063 | Gentle Jimm | 3 | Oracle Think Tank | | C |
| BT09/064 | Oracle Guardian, Sphinx | 2 | Oracle Think Tank | | C |
| BT09/065 | Rock Witch, GaGa | 2 | Oracle Think Tank | | C |
| BT09/066 | Battle Sister, Cream | 1 | Oracle Think Tank | | C |
| BT09/067 | Machine-gun Talk, Ryan | 1 | Oracle Think Tank | | C |
| BT09/068 | Solar Maiden, Uzume | 0 | Oracle Think Tank | | C |
| BT09/069 | Supple Bamboo Princess, Kaguya | 0 | Oracle Think Tank | | C |
| BT09/070 | Heroic Hani | 2 | Nova Grappler | | C |
| BT09/071 | Transraizer | 2 | Nova Grappler | | C |
| BT09/072 | Burstraizer | 1 | Nova Grappler | | C |
| BT09/073 | Stoic Hani | 1 | Nova Grappler | | C |
| BT09/074 | Transmigrating Evolution, Miraioh | 0 | Nova Grappler | | C |
| BT09/075 | Lionet Heat | 0 | Nova Grappler | | C |
| BT09/076 | Crimson Drive, Aphrodite | 2 | Angel Feather | | C |
| BT09/077 | Examine Angel | 2 | Angel Feather | | C |
| BT09/078 | Crimson Mind, Baruch | 1 | Angel Feather | | C |
| BT09/079 | Emergency Vehicle | 1 | Angel Feather | | C |
| BT09/080 | Candlelight Angel | 1 | Angel Feather | | C |
| BT09/081 | Crimson Heart, Nahas | 0 | Angel Feather | | C |
| BT09/082 | Rampage Cart Angel | 0 | Angel Feather | Critical | C |
| BT09/083 | Fever Therapy Nurse | 0 | Angel Feather | Draw | C |
| BT09/084 | Vocal Chicken | 3 | Great Nature | | C |
| BT09/085 | Melodica Cat | 2 | Great Nature | | C |
| BT09/086 | Parabolic Moose | 2 | Great Nature | | C |
| BT09/087 | Barcode Zebra | 2 | Great Nature | | C |
| BT09/088 | Recorder Dog | 1 | Great Nature | | C |
| BT09/089 | Sharpener Beaver | 1 | Great Nature | | C |
| BT09/090 | Protractor Peacock | 1 | Great Nature | | C |
| BT09/091 | Gardening Mole | 0 | Great Nature | | C |
| BT09/092 | Castanet Donkey | 0 | Great Nature | Draw | C |
| BT09/093 | Holy Mage of the Gale | 1 | Gold Paladin | | C |
| BT09/094 | Stronghold of the Black Chains, Hoel | 0 | Gold Paladin | | C |
| BT09/095 | Dantegal | 0 | Gold Paladin | Critical | C |
| BT09/096 | Runebau | 0 | Gold Paladin | Stand | C |
| BT09/097 | Exorcist Mage, Roh Roh | 1 | Narukami | | C |
| BT09/098 | Deity Sealing Kid, Soh Koh | 0 | Narukami | | C |
| BT09/099 | Spark Edge Dracokid | 0 | Narukami | Critical | C |
| BT09/100 | Exorcist Mage, Lin Lin | 0 | Narukami | Stand | C |
| BT09/101 | Magical Partner | 1 | Pale Moon | | C |
| BT09/102 | Smiling Presenter | 0 | Pale Moon | | C |
Clan/Grade Breakdown