Home
Talk

12
6,758pages on
this wiki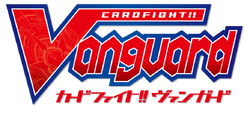 Cardfight!! Vanguard is Japan's latest TCG (Trading Card Game), which it brings both manga authors together to develop this unique and interesting card game. The game uses many similar elements from other card game anime such as Yu-Gi-Oh! (Draw 5 cards at beginning, draw 1 every turn, player that goes first can't attack). TCG games like these have been very successful in Japan and in many countries and the creators are hoping to go worldwide with this one.
The card images used on this site which have "Sample" written across them are obtained from the Cardfight!! Vanguard Official Portal Site (http://cf-vanguard.com), in accordance to the guidelines stated there. Re-use of these images (re-post, distribution) is strictly prohibited.
(C) Bushiroad All Rights Reserved.
Which is your favorite clan?
Which of the following is your favorite Break Ride?
"Infinite Rebirth" is the 15th Booster Set.
Contents
Shin Nitta
Shin Nitta is the manager of Card Capital and Misaki's uncle. He enjoys it when people are having a good time in his card shop. He also acts as the manager for Team Q4.
Card of the Week (w/c January 13, 2014)
This Week's "Card of the Week" is
Unrivaled Blade Rogue, Cyclomatooth!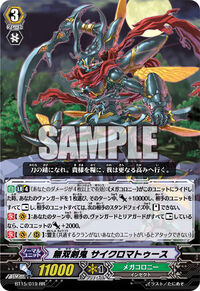 Abilities
[AUTO] Limit Break 4 (This ability is active if you have four or more damage):When a «Megacolony» rides this unit, choose your vanguard, that unit gets [Power]+10000 until end of turn, and [Rest] all of your opponent's units, and all of your opponent's units cannot [Stand] during your opponent's next stand phase.
[CONT](VC):During your turn, if all of your opponent's vanguard and rear-guards are [Rest], this unit gets [Power]+2000
[CONT](VC/RC): Lord (If you have a unit without a same clan as this unit, this unit cannot attack)
Cardfight!! Vanguard Manga: Volume 6 is the 6th volume in the Cardfight!! Vanguard Manga series.
Get the My Wikia App!
With Wikia's official flagship app, My Wikia, you can search for communities and add them to your home screen and read constantly evolving, deep content in a customizable format.
DOWNLOAD NOW FOR FREE!