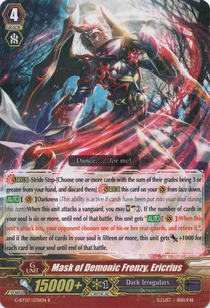 "Darkness" (深闇 Dākunesu) is a keyword exclusive to the Dark Irregulars clan, and introduced in G Booster Set 7: Glorious Bravery of Radiant Sword.
How it Works
A "Darkness" ability remains active, or can only be used, as long as at least one card has been put into your soul during the same turn, excluding riding or moving cards to the vanguard circle. You need to have put any card into your soul as soon as the event for the ability would occur, even if a card is being put into your soul at the same time, or it was put after passing the timing for the activation.
List of Cards
Grade 0
Grade 1
Grade 2
Grade 3
Grade 4
List of Support Cards
Grade 1
Grade 2
Grade 3
Grade 4
Trivia
The kanji "深闇" (Shin'an) can be translated as "Deep Darkness".
In the anime, units whose darkness ability is active emit a purple-rings aura around them.
In the Cardfight Vanguard G fanbook, it is stated that Darkness is active when "cards are put into your soul. This applies to both riding and moving cards to the vanguard circle", which is a direct contradiction to Darkness' function in the official comprehensive manual.