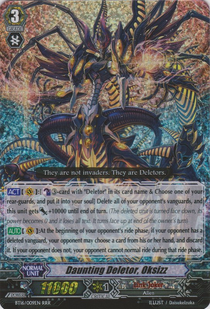 "Delete" (デリート Derīto) is a keyword exclusive to the "Deletors" from the Link Joker clan, and was introduced in Movie Trial Deck 1: Malefic Deletor.
Despite this mechanic being unique, as well as requiring reminder text when it was first introduced, "Delete" itself is not considered to be Link Joker's keyword by Cardfight!! Vanguard G's definition.
How it Works
When a vanguard is deleted, it is turned face down and retains its standing or resting state. At the end of the owner's turn, the deleted vanguard is turned face up and ceases to be deleted. While that unit is deleted, its original power becomes 0 and it loses all abilities that are written on its face up side. However, skill icon and other characteristics on the deleted unit remain. Also, the deleted vanguard can still get power and effects from other cards, and it can attack (as well as to be boosted) normally during its owner's turn.
The deleted vanguard is still considered to be the same unit as the original. A deleted vanguard that is in the Legion state retains that state while deleted, in this case both legion leader and mate are deleted. If a unit rides on top of a deleted vanguard, they are put into the soul face up, and if a G Unit Strides, the deleted unit becomes a face up heart card.
List of Cards
Grade 1
Grade 3
Grade 4
List of Support Cards
Grade 0
Grade 1
Grade 2
Grade 3
Frequently Asked Questions
Trivia