Ad blocker interference detected!
Wikia is a free-to-use site that makes money from advertising. We have a modified experience for viewers using ad blockers

Wikia is not accessible if you've made further modifications. Remove the custom ad blocker rule(s) and the page will load as expected.
Banquet of Divas is the 2nd Extra Booster Set released in the Japanese/Korean and English format.
Contents
Illustrators
藤真拓哉 / はま / ワダアルコ / 碧風羽 / 津路参汰(ニトロプラス) / 樹人 / 伊能津 / 杏仁豆腐 / KEI / Uni / 井藤ななみ / なつめえり / 叶之明 / 樹人 / 千葉サドル / 魚 / さくらねこ / 木村樹祟 / 瑞姫 / あきまん / 志緒野博 / 碧風羽 / Hirokorin / 井藤ななみ / 千葉サドル / 武井宏之
Video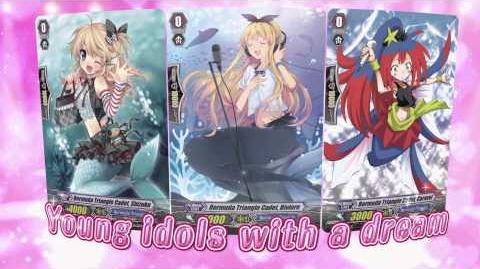 Card List
| Code | Name | Grade | Clan | Trigger | Rarity |
| --- | --- | --- | --- | --- | --- |
| EB02/001 | Top Idol, Pacifica | 3 | Bermuda Triangle |   | RRR+SP |
| EB02/002 | Top Idol, Riviere | 3 | Bermuda Triangle |   | RRR |
| EB02/003 | Bermuda Princess, Lena | 3 | Bermuda Triangle |   | RR |
| EB02/004 | Pearl Sisters, Perle | 1 | Bermuda Triangle |   | RR |
| EB02/005 | Pearl Sisters, Perla | 2 | Bermuda Triangle |   | RR |
| EB02/006 | Girls' Rock, Rio | 2 | Bermuda Triangle |   | RR+SP |
| EB02/007 | Mermaid Idol, Elly | 1 | Bermuda Triangle |   | RR |
| EB02/008 | Super Idol, Ceram | 3 | Bermuda Triangle |   | R |
| EB02/009 | Top Idol, Flores | 3 | Bermuda Triangle |   | R |
| EB02/010 | Top Idol, Aqua | 2 | Bermuda Triangle |   | R |
| EB02/011 | Super Idol, Riviere | 2 | Bermuda Triangle |   | R |
| EB02/012 | Mermaid Idol, Flute | 2 | Bermuda Triangle |   | R |
| EB02/013 | Turquoise Blue, Tyrrhenia | 1 | Bermuda Triangle |   | R |
| EB02/014 | Bermuda Triangle Cadet, Weddell | 0 | Bermuda Triangle |   | R |
| EB02/015 | Bermuda Triangle Cadet, Riviere | 0 | Bermuda Triangle |   | R |
| EB02/016 | Velvet Voice, Raindear | 3 | Bermuda Triangle |   | C |
| EB02/017 | Rainbow Light, Carine | 3 | Bermuda Triangle |   | C |
| EB02/018 | Intelli-idol, Melville | 2 | Bermuda Triangle |   | C |
| EB02/019 | Snow White of the Corals, Claire | 2 | Bermuda Triangle |   | C |
| EB02/020 | Diva of Clear Waters, Izumi | 2 | Bermuda Triangle |   | C |
| EB02/021 | Mermaid Idol, Sedna | 1 | Bermuda Triangle |   | C |
| EB02/022 | Prism on the Water, Myrtoa | 1 | Bermuda Triangle |   | C |
| EB02/023 | Mermaid Idol, Felucca | 1 | Bermuda Triangle |   | C |
| EB02/024 | Mermaid Idol, Riviere | 1 | Bermuda Triangle |   | C |
| EB02/025 | Navy Dolphin, Amur | 1 | Bermuda Triangle |   | C |
| EB02/026 | Blazer Idols | 1 | Bermuda Triangle |   | C |
| EB02/027 | Comical Rainie | 0 | Bermuda Triangle | Critical | C |
| EB02/028 | Cooking Caspi | 0 | Bermuda Triangle | Draw | C |
| EB02/029 | Sleeping Beauty, Mousse | 0 | Bermuda Triangle | Stand | C |
| EB02/030 | Drive Quartet, Ressac | 0 | Bermuda Triangle | Stand | C |
| EB02/031 | Drive Quartet, Flows | 0 | Bermuda Triangle | Heal | C |
| EB02/032 | Drive Quartet, Shuplu | 0 | Bermuda Triangle | Critical | C |
| EB02/033 | Drive Quartet, Bubblin | 0 | Bermuda Triangle | Draw | C |
| EB02/034 | Bermuda Triangle Cadet, Shizuku | 0 | Bermuda Triangle |   | C |
| EB02/035 | Bermuda Triangle Cadet, Caravel | 0 | Bermuda Triangle |   | C |
Clan/Grade Breakdown