Extra Booster: Banquet of Divas
Comments

605
4,414pages on
this wiki
VG-EB02 Banquet of Divas



Japanese Name:

歌姫の饗宴 (ウタヒメのキョウエン)

Phonetic:

Utahime no Kyouen

Translation:

Banquet of Divas

Release Date:

March 10th, 2012 (JP)
November 3, 2012 (EN, Singapore)
November 9, 2012 (EN, International)

Set Gallery English

Set Gallery Japanese

Set Gallery Korean

Previous Set:

Next Set:
Banquet of Divas
is the 2nd
Extra Booster Set
.
Contents
There are a total of 35 different cards (2 RRR, 5 RR, 8 R, 20 C + 2 SP).
Every card in this pack are «Bermuda Triangle» units.
This makes it possible to make a single clan deck of «Bermuda Triangle».
The 4 «Bermuda Triangle» cards from Booster Set 2: Onslaught of Dragon Souls are reprinted for this set: Top Idol, Aqua, Top Idol, Flores, Blazer Idols and Bermuda Triangle Cadet, Caravel.
Package cover features the Pearl Sisters: Pearl Sisters, Perle and Pearl Sisters, Perla.
Illustrators
藤真拓哉 / はま / ワダアルコ / 碧風羽 / 津路参汰(ニトロプラス) / 樹人 / 伊能津 / 杏仁豆腐 / KEI / Uni / 井藤ななみ / なつめえり / 叶之明 / 樹人 / 千葉サドル / 魚 / さくらねこ / 木村樹祟 / 瑞姫 / あきまん / 志緒野博 / 碧風羽 / Hirokorin / 井藤ななみ / 千葉サドル / 武井宏之
Video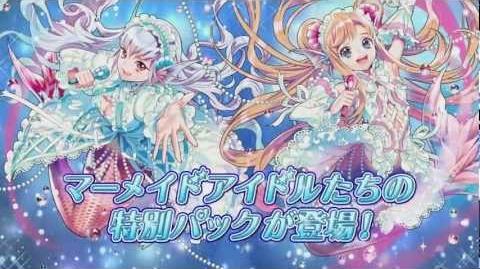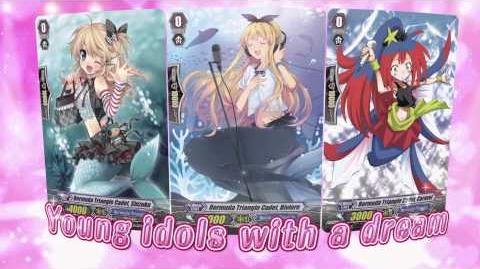 Card List
| | | | | | |
| --- | --- | --- | --- | --- | --- |
| Card | Name | Grade | Clan | Trigger | Rarity |
| EB02/001 | Top Idol, Pacifica | 3 | Bermuda Triangle |   | RRR+SP |
| EB02/002 | Top Idol, Riviere | 3 | Bermuda Triangle |   | RRR |
| EB02/003 | Bermuda Princess, Lena | 3 | Bermuda Triangle |   | RR |
| EB02/004 | Pearl Sisters, Perle | 1 | Bermuda Triangle |   | RR |
| EB02/005 | Pearl Sisters, Perla | 2 | Bermuda Triangle |   | RR |
| EB02/006 | Girls' Rock, Rio | 2 | Bermuda Triangle |   | RR+SP |
| EB02/007 | Mermaid Idol, Elly | 1 | Bermuda Triangle |   | RR |
| EB02/008 | Super Idol, Ceram | 3 | Bermuda Triangle |   | R |
| EB02/009 | Top Idol, Flores | 3 | Bermuda Triangle |   | R |
| EB02/010 | Top Idol, Aqua | 2 | Bermuda Triangle |   | R |
| EB02/011 | Super Idol, Riviere | 2 | Bermuda Triangle |   | R |
| EB02/012 | Mermaid Idol, Flute | 2 | Bermuda Triangle |   | R |
| EB02/013 | Turquoise Blue, Tyrrhenia | 1 | Bermuda Triangle |   | R |
| EB02/014 | Bermuda Triangle Cadet, Weddell | 0 | Bermuda Triangle |   | R |
| EB02/015 | Bermuda Triangle Cadet, Riviere | 0 | Bermuda Triangle |   | R |
| EB02/016 | Velvet Voice, Raindear | 3 | Bermuda Triangle |   | C |
| EB02/017 | Rainbow Light, Carine | 3 | Bermuda Triangle |   | C |
| EB02/018 | Inteli Idol, Mervill | 2 | Bermuda Triangle |   | C |
| EB02/019 | Snow White of the Corals, Claire | 2 | Bermuda Triangle |   | C |
| EB02/020 | Diva of Clear Waters, Izumi | 2 | Bermuda Triangle |   | C |
| EB02/021 | Mermaid Idol, Sedna | 1 | Bermuda Triangle |   | C |
| EB02/022 | Prism on the Water, Myrtoa | 1 | Bermuda Triangle |   | C |
| EB02/023 | Mermaid Idol, Felucca | 1 | Bermuda Triangle |   | C |
| EB02/024 | Mermaid Idol, Riviere | 1 | Bermuda Triangle |   | C |
| EB02/025 | Navy Dolphin, Amur | 1 | Bermuda Triangle |   | C |
| EB02/026 | Blazer Idols | 1 | Bermuda Triangle |   | C |
| EB02/027 | Comical Rainie | 0 | Bermuda Triangle | Critical | C |
| EB02/028 | Cooking Caspi | 0 | Bermuda Triangle | Draw | C |
| EB02/029 | Sleeping Beauty, Mousse | 0 | Bermuda Triangle | Stand | C |
| EB02/030 | Drive Quartet, Ressac | 0 | Bermuda Triangle | Stand | C |
| EB02/031 | Drive Quartet, Flows | 0 | Bermuda Triangle | Heal | C |
| EB02/032 | Drive Quartet, Shuplu | 0 | Bermuda Triangle | Critical | C |
| EB02/033 | Drive Quartet, Bubblin | 0 | Bermuda Triangle | Draw | C |
| EB02/034 | Bermuda Triangle Cadet, Shizuku | 0 | Bermuda Triangle |   | C |
| EB02/035 | Bermuda Triangle Cadet, Caravel | 0 | Bermuda Triangle |   | C |
Clan/Grade Breakdown