Ad blocker interference detected!
Wikia is a free-to-use site that makes money from advertising. We have a modified experience for viewers using ad blockers

Wikia is not accessible if you've made further modifications. Remove the custom ad blocker rule(s) and the page will load as expected.
"Divas Duet" is the 10th Extra Booster released. The cards in this pack each have two alternate art versions, White and Black.
Contents
Features further support for the Bermuda Triangle clan.
There are a total of 70 cards (6 RRR, 10 RR, 16 R, 38 C + 16 SP), separated into 35 cards for each version.

Black: 3 RRR, 5 RR, 8 R, 19 C + 8 SP.
White: 3 RRR, 5 RR, 8 R, 19 C + 8 SP.

The poster's slogan is "White me" or "Black me", which do you like?".
Each Japanese and English display includes 1 random card of 3 new Promo Cards, all of them in RRR.
Illustrators
KEI/nardack/あるるる。/アカバネ/木村樹崇/ことぶきつかさ/魚/さくらねこ/たにはらなつき/とりしも/なつめえり/にもし/藤真拓哉/ワダアルコ
Video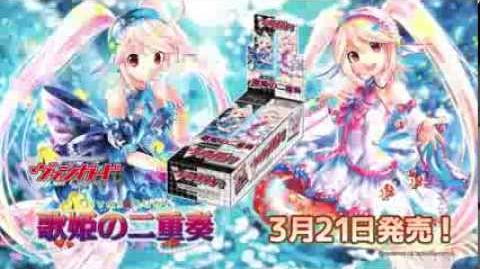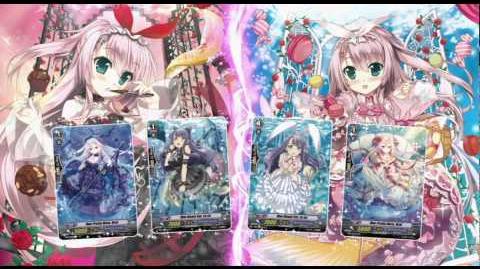 Card List
| Code (B/W) | Name | Grade | Clan | Trigger | Rarity |
| --- | --- | --- | --- | --- | --- |
| EB10/001 | Duo Stage Storm, Iori | 3 | Bermuda Triangle | | RRR+SP |
| EB10/002 | Duo Temptation, Reit | 3 | Bermuda Triangle | | RRR+SP |
| EB10/003 | Duo True Sister, Meer | 3 | Bermuda Triangle | | RRR+SP |
| EB10/004 | Duo Flower Girl, Lily | 3 | Bermuda Triangle | | RR+SP |
| EB10/005 | Duo Mini Heart, Rhone | 2 | Bermuda Triangle | | RR+SP |
| EB10/006 | PR♥ISM-Duo, Slaney | 2 | Bermuda Triangle | | RR+SP |
| EB10/007 | Duo Promise Day, Colima | 1 | Bermuda Triangle | | RR+SP |
| EB10/008 | PR♥ISM-Duo, Aria | 1 | Bermuda Triangle | | RR+SP |
| EB10/009 | Duo Sweet Rhythm, Vilaine | 3 | Bermuda Triangle | | R |
| EB10/010 | Duo Kelpie Jockey, Syr Darya | 2 | Bermuda Triangle | | R |
| EB10/011 | Duo Dream Idol, Sana | 2 | Bermuda Triangle | | R |
| EB10/012 | Duo Magical Mic, Shalwien | 2 | Bermuda Triangle | | R |
| EB10/013 | Duo Blue Marine Chateau, Thames | 2 | Bermuda Triangle | | R |
| EB10/014 | Duo Petit Etoile, Peace | 1 | Bermuda Triangle | | R |
| EB10/015 | Duo Pretty Horn, Ural | 1 | Bermuda Triangle | | R |
| EB10/016 | PR♥ISM-Duo, Tisza | 0 | Bermuda Triangle | | R |
| EB10/017 | Duo Lady Canotier, Salinas | 3 | Bermuda Triangle | | C |
| EB10/018 | Duo Toy Box, Menam | 2 | Bermuda Triangle | | C |
| EB10/019 | Duo White Crystal, Ricca | 2 | Bermuda Triangle | | C |
| EB10/020 | PR♥ISM-Duo, Avon | 2 | Bermuda Triangle | | C |
| EB10/021 | Duo Afternoon Tea, Parana | 1 | Bermuda Triangle | | C |
| EB10/022 | Duo Shiny Tone, Cikola | 1 | Bermuda Triangle | | C |
| EB10/023 | Duo Dream Idol, Main | 1 | Bermuda Triangle | | C |
| EB10/024 | Duo Beast Ear, Lu Lu | 1 | Bermuda Triangle | | C |
| EB10/025 | PR♥ISM-Duo, Yarmouk | 1 | Bermuda Triangle | | C |
| EB10/026 | Duo Clear Parasol, Kura | 1 | Bermuda Triangle | | C |
| EB10/027 | Duo Lovers Singer, Darling | 0 | Bermuda Triangle | | C |
| EB10/028 | Duo Treasure Hunter, Suwannee | 0 | Bermuda Triangle | | C |
| EB10/029 | Duo Pride Crown, Madeira | 0 | Bermuda Triangle | Critical | C |
| EB10/030 | Duo Grampus Turn, Shannon | 0 | Bermuda Triangle | Critical | C |
| EB10/031 | Duo Morning Charm, Liffey | 0 | Bermuda Triangle | Draw | C |
| EB10/032 | Duo Lamplight Melody, Tigris | 0 | Bermuda Triangle | Draw | C |
| EB10/033 | Duo Soulful Melody, Selenga | 0 | Bermuda Triangle | Stand | C |
| EB10/034 | Duo Tropical Healer, Medjerda | 0 | Bermuda Triangle | Heal | C |
| EB10/035 | Duo Night Wing, Tangariro | 0 | Bermuda Triangle | Stand | C |
Clan/Grade Breakdown