Ad blocker interference detected!
Wikia is a free-to-use site that makes money from advertising. We have a modified experience for viewers using ad blockers

Wikia is not accessible if you've made further modifications. Remove the custom ad blocker rule(s) and the page will load as expected.
"Divine Dragon Progression" is the 9th Extra Booster Set released in Japanese and English format.
Contents
Illustrators
Azusa/Hirokorin/Morechand/touge666/伊藤彰/イトウヨウイチ/かわすみ/樹人/コガラツ/齋藤直葵/サウトカシト/山宗/タイキ/田口美穂/辻野芳輝/藤ちょこ/前河悠一/増田幹生/松島一夫/守/丸山浩/碧風羽/三好載克/村瀬倫太郎/村山竜大/百瀬寿/山崎太郎/山﨑奈苗/りりんら
Video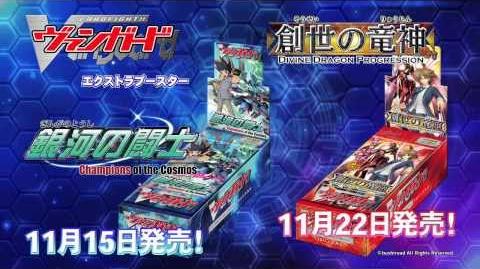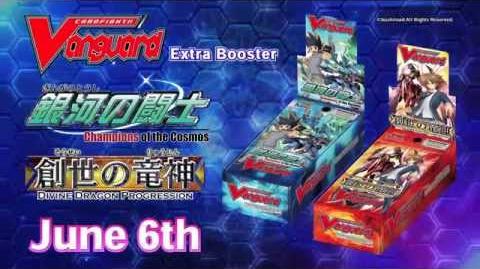 Card List
| Code | Name | Grade | Clan | Trigger | Rarity |
| --- | --- | --- | --- | --- | --- |
| EB09/001 | Transcendence Dragon, Dragonic Nouvelle Vague | 4 | Kagerō | | RRR+SP |
| EB09/002 | Cruel Dragon | 3 | Kagerō | | RRR+SP |
| EB09/003 | Blast Bulk Dragon | 3 | Kagerō | | RRR+SP |
| EB09/004 | Dragonic Overlord | 3 | Kagerō | | RR |
| EB09/005 | Dragonic Lawkeeper | 3 | Kagerō | | RR |
| EB09/006 | Nouvellecritic Dragon | 2 | Kagerō | | RR |
| EB09/007 | Dragonic Gaias | 1 | Kagerō | | RR+SP |
| EB09/008 | Dragon Dancer, Maria | 1 | Kagerō | | RR |
| EB09/009 | Dragon Monk, Goku | 3 | Kagerō | | R |
| EB09/010 | Dragon Knight, Neshat | 2 | Kagerō | | R |
| EB09/011 | Berserk Dragon | 2 | Kagerō | | R |
| EB09/012 | Bellicosity Dragon | 2 | Kagerō | | R |
| EB09/013 | Dragon Knight, Ashgar | 1 | Kagerō | | R |
| EB09/014 | Nouvelleroman Dragon | 1 | Kagerō | | R |
| EB09/015 | Lizard Soldier, Raopia | 1 | Kagerō | | R |
| EB09/016 | Lizard Soldier, Conroe | 0 | Kagerō | | R |
| EB09/017 | Dragon Knight, Morteza | 3 | Kagerō | | C |
| EB09/018 | Beikin Grim Dragon | 3 | Kagerō | | C |
| EB09/019 | Genie Soldat | 2 | Kagerō | | C |
| EB09/020 | Prowling Dragon, Striken | 2 | Kagerō | | C |
| EB09/021 | Dragon Knight, Nehalem | 2 | Kagerō | | C |
| EB09/022 | Demonic Dragon Mage, Kongara | 2 | Kagerō | | C |
| EB09/023 | Embodiment of Armor, Bahr | 1 | Kagerō | | C |
| EB09/024 | Guard Griffin | 1 | Kagerō | | C |
| EB09/025 | Flame of Hope, Aermo | 1 | Kagerō | | C |
| EB09/026 | Demonic Dragon Madonna, Joka | 1 | Kagerō | | C |
| EB09/027 | Scale Dragon of the Magma Cave | 1 | Kagerō | | C |
| EB09/028 | Red Pulse Dracokid | 0 | Kagerō | | C |
| EB09/029 | Blue Ray Dracokid | 0 | Kagerō | Critical | C |
| EB09/030 | Embodiment of Spear, Tahr | 0 | Kagerō | Critical | C |
| EB09/031 | Dragon Dancer, Monica | 0 | Kagerō | Draw | C |
| EB09/032 | Lizard Soldier, Ganlu | 0 | Kagerō | Stand | C |
| EB09/033 | Dragon Monk, Genjo | 0 | Kagerō | Heal | C |
| EB09/034 | Gattling Claw Dragon | 0 | Kagerō | Draw | C |
| EB09/035 | Flame Seed Salamander | 0 | Kagerō | Stand | C |
Clan/Grade Breakdown
| | | | | | | |
| --- | --- | --- | --- | --- | --- | --- |
| Clan | Grade 0 | Grade 1 | Grade 2 | Grade 3 | Grade 4 | Total |
| Kagerō | 9 | 10 | 8 | 7 | 1 | 35 |