Extra Booster: Mystical Magus
Comments

1k
5,796pages on
this wiki
VG-EB07 Mystical Magus



Japanese Name:

神秘の預言者

Phonetic:

Shinpi no Yogensha

Translation:

Mysterious Prophet

Release Date:

August 30th, 2013 (JP)

Set Gallery Japanese:

Set Gallery English:

Previous Set:

Next Set:
Mystical Magus is the 7th Extra Booster Set.
Contents
There are a total of 35 different cards (2 RRR, 5 RR, 8 R, 20 C + 4 SP).
There are 14 new cards and 21 reprints.
Features further support for the Oracle Think Tank clan.
Includes new Limit Break units.
Features cards used by Misaki Tokura in the Cardfight!! Vanguard Manga.
The package illustration is of Misaki Tokura and Hexagonal Magus.
The booster box's slogan is "To the mystical eyes that foresee fate, good luck will always come...".
Illustrators
Azusa/Morechand/NINNIN/uni/安達洋介/伊藤彰/伊藤未生/影木栄貴/おにねこ/喜久屋めがね/ことぶきつかさ/齋藤タヶオ/志緒野博/東雲ルリヲ/田所哲平/てるみぃ/パトリシア/ひと和/前田ヒロユキ/松島一夫/碧風羽/百瀬寿/よも/りりんら/鷲尾直広
Video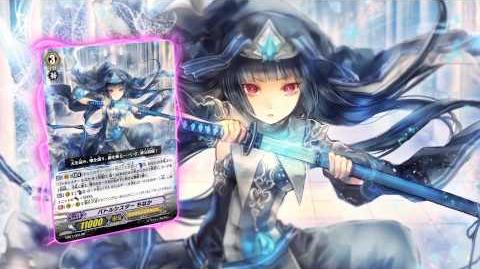 Card List
| Code | Name | Grade | Clan | Trigger | Rarity |
| --- | --- | --- | --- | --- | --- |
| EB07/001 | Hexagonal Magus | 3 | Oracle Think Tank | | RRR+SP |
| EB07/002 | Battle Sister, Parfait | 3 | Oracle Think Tank | | RRR+SP |
| EB07/003 | Battle Sister, Monaka | 3 | Oracle Think Tank | | RR+SP |
| EB07/004 | Stellar Magus | 2 | Oracle Think Tank | | RR |
| EB07/005 | Battle Sister, Cocotte | 2 | Oracle Think Tank | | RR+SP |
| EB07/006 | Briolette Magus | 2 | Oracle Think Tank | | RR |
| EB07/007 | Tetra Magus | 1 | Oracle Think Tank | | RR |
| EB07/008 | Imperial Daughter | 3 | Oracle Think Tank | | R |
| EB07/009 | Evil-eye Princess, Euryale | 3 | Oracle Think Tank | | R |
| EB07/010 | Oracle Agent, Roys | 2 | Oracle Think Tank | | R |
| EB07/011 | Cuore Magus | 2 | Oracle Think Tank | | R |
| EB07/012 | Battle Sister, Macaron | 2 | Oracle Think Tank | | R |
| EB07/013 | Promise Daughter | 2 | Oracle Think Tank | | R |
| EB07/014 | Crescent Magus | 1 | Oracle Think Tank | | R |
| EB07/015 | Little Witch, LuLu | 0 | Oracle Think Tank | | R |
| EB07/016 | Sailand Magus | 3 | Oracle Think Tank | | C |
| EB07/017 | Battle Sister, Tarte | 2 | Oracle Think Tank | | C |
| EB07/018 | Battle Sister, Caramel | 2 | Oracle Think Tank | | C |
| EB07/019 | Blue Scale Deer | 2 | Oracle Think Tank | | C |
| EB07/020 | Onmyoji of the Moonlit Night | 2 | Oracle Think Tank | | C |
| EB07/021 | Oracle Guardian, Gemini | 1 | Oracle Think Tank | | C |
| EB07/022 | Circle Magus | 1 | Oracle Think Tank | | C |
| EB07/023 | Battle Sister, Omelet | 1 | Oracle Think Tank | | C |
| EB07/024 | Ripis Magus | 1 | Oracle Think Tank | | C |
| EB07/025 | Battle Sister, Maple | 1 | Oracle Think Tank | | C |
| EB07/026 | Petal Fairy | 1 | Oracle Think Tank | | C |
| EB07/027 | Battle Sister, Lemonade | 1 | Oracle Think Tank | | C |
| EB07/028 | Luck Bird | 1 | Oracle Think Tank | | C |
| EB07/029 | Battle Sister, Ginger | 0 | Oracle Think Tank | Critical | C |
| EB07/030 | Miracle Kid | 0 | Oracle Think Tank | Draw | C |
| EB07/031 | Battle Sister, Tiramisu | 0 | Oracle Think Tank | Draw | C |
| EB07/032 | Battle Sister, Assam | 0 | Oracle Think Tank | Stand | C |
| EB07/033 | Battle Sister, Chai | 0 | Oracle Think Tank | Heal | C |
| EB07/034 | Psychic Bird | 0 | Oracle Think Tank | Critical | C |
| EB07/035 | Lozenge Magus | 0 | Oracle Think Tank | Heal | C |
Grade Breakdown
| | | | |
| --- | --- | --- | --- |
| Grade 0 | Grade 1 | Grade 2 | Grade 3 |
| 8 | 10 | 11 | 6 |