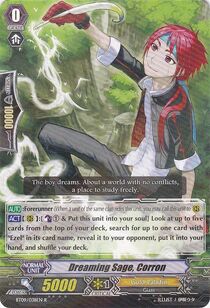 "Forerunner" (先駆 Senku) is a keyword introduced in Booster Set 9: Clash of the Knights & Dragons. It appears to be used only in grade 0 normal units, which can be used as the first vanguard.
How it Works
A "Forerunner" ability only activates when a unit of the same clan rides on top of the unit possessing it, then you may call that card to any of your rear-guard circles.
List of Cards
Trivia
Ad blocker interference detected!
Wikia is a free-to-use site that makes money from advertising. We have a modified experience for viewers using ad blockers

Wikia is not accessible if you've made further modifications. Remove the custom ad blocker rule(s) and the page will load as expected.