The Granblue (グランブルー Guranburū) are a clan from the nation of Magallanica. It is a clan of pirates, most of them undead. They are focused on sending units to the drop zone to call them from the drop zone. Their units typically have one of two types of effects; effects that send cards from the deck or hand to the drop zone like Zombie Guide, and effects that call units from the drop zone, like Monster Frank and Captain Nightmist.
This clan has 2 unique races so far.
In the anime, Gouki Daimonji uses a Granblue deck. Also, Lizard from Team Ninja (Episode 71-72) used a Granblue deck as well.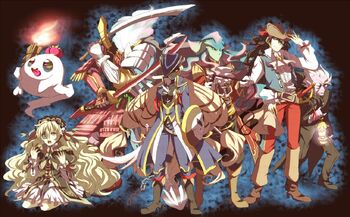 Sets containing Granblue cards
Booster Sets:
Races
Unique Races
List of Granblue cards
Grade 0
Grade 1
Grade 2
Grade 3
United Sanctuary
Dragon Empire
Dark Zone
Magallanica
Zoo
Star Gate