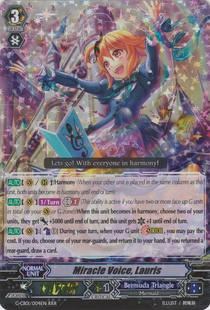 "Harmony" (♪♪ Hāmonī) is a keyword exclusive to the Bermuda Triangle clan, and introduced on G Clan Booster 1: Academy of Divas.
How it Works
A "Harmony" ability only activates when a different unit is placed on your (VC) or (RC) in the same column as the unit that possesses this ability. When it does, both units become Harmony state, and they remain associated with each other in Harmony state until end of turn. If one of them leaves the field before resolving "becoming Harmony state", neither of them will be in Harmony state.
If one of the units in Harmony state leaves the field, the other unit is no longer in Harmony state. However, if you call another unit during the same turn, both units will become Harmony state again.
Both units remain in Harmony state even if one of them is moved to another column. After that, if another unit is placed in the same column, all of those three units will become Harmony state until end of turn.
Effect Use Timing
"When this unit becomes harmony..." refers to when the unit changes from not being in Harmony state to being in Harmony state in order to be activated.
"If this unit is in harmony..." refers to whether the unit is in Harmony state at that moment after being activated.
List of Cards
Grade 0
Grade 1
Grade 2
Grade 3
Grade 4
List of Support Cards
Grade 0
Grade 1
Grade 2
Grade 3
Grade 4