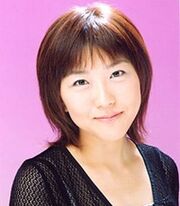 Hitomi Nabatame (生天目 仁美 Nabatame Hitomi, born August 4, 1976 in Sado, Niigata and raised in Yokohama) is a Japanese voice actress. She is affiliated with Ken Production. When voicing adult games, she is known as Maki Tezuka (手塚 まき Tezuka Maki), Fuka Hinami (雛見 風香 Hinami Fūka, Myu Nonaka (野中 みゅう Nonaka Myū, or Ko Shiina (シィーナ・コウ Shiina Kō. She also sings opening themes for Nogizaka Haruka no Himitsu under the name Miran Himemiya and Chocolate Rockers. She voices Asaka Narumi in the Cardfight!! Vanguard Anime.
Other Notable Roles
Beyblade: Metal Fusion (TV) as Osamu
Bleach (TV) as Kariya Jin (child); Misato Ochi; Nanao Ise; Receptionist (Shinigami Golden Dictionary); Renji's Greeters (ep 18); Ryō Kunieda; Usaka Kazuya (Karin's Friend)
Bleach: The DiamondDust Rebellion - Mō Hitotsu no Hyōrinmaru (movie) as Nanao Ise
Zettai Karen Children (TV) as Sera
Zoids: Fuzors (TV) as Betty
Ad blocker interference detected!
Wikia is a free-to-use site that makes money from advertising. We have a modified experience for viewers using ad blockers

Wikia is not accessible if you've made further modifications. Remove the custom ad blocker rule(s) and the page will load as expected.