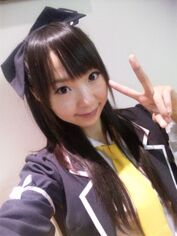 Izumi Kitta (橘田いずみ Kitta Izumi, born November 27, 1984) is a Japanese voice actress. She was born in Tokyo, Japan. She voices Misaki Tokura and Sub Manager in the Cardfight!! Vanguard Anime. She has nicknames of Izusama ( いず様 ) and Zūmin ( ずーみん ).
Other Notable Roles
Toaru Kagaku no Railgun (TV) as Boarding Student (ep 19); Female Student (ep 3); Girl (ep 11); Passer-by (ep 7); Salesgirl (ep 8); Waitress (ep 6)
Ad blocker interference detected!
Wikia is a free-to-use site that makes money from advertising. We have a modified experience for viewers using ad blockers

Wikia is not accessible if you've made further modifications. Remove the custom ad blocker rule(s) and the page will load as expected.