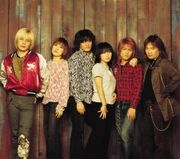 JAM Project
("JAM" standing for "Japan Animationsong Makers") is an anime music genre (or anison) "supergroup" based in Japan, originally founded on July 19, 2000 by famous 1970s theme song artist Ichirou Mizuki. The group is composed of many vocal artists well known in the genre; aside from the many anime, tokusatsu, and video game theme songs that this group has performed together, each member is famous for his or her own solo performances of Japanese theme songs.
In the summer of 2012, they will be teaming up with Animetal USA for a limited national concert tour called the Japan-America Anison Summit (日米アニソンサミット Nichi-Bei Anison Samitto).
Members
Regular members
Hironobu Kageyama – founding member
Masaaki Endoh – founding member
Hiroshi Kitadani – joined in June 2002
Masami Okui – joined in March 2003
Yoshiki Fukuyama – joined in March 2003
Semi-regular members
Ichirou Mizuki – founding member; formally reduced his status to "part-time member" in August 2002, following the group's second live concert.
Ricardo Cruz – additional vocalist from Brazil; heard on the songs "Neppu! Shippu! Cybaster" (2005 version), "GONG", "STORMBRINGER", "Rescue Fire", "The Guardian", "TRANSFORMERS EVO.", and "Waga Na wa Garo".
Rica Matsumoto – founding member; announced on April 7, 2008, that she was taking time off from the band to focus on her solo work.
Former members
Eizo Sakamoto – founding member; stopped activity with the group in March 2003 prior to Fukuyama and Okui's joining, referring to it as "Graduation" (卒業 Sotsugyō).
They sang: