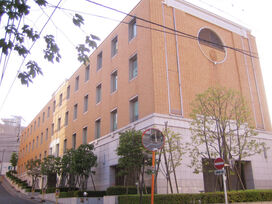 Kadokawa Shoten Publishing Co., Ltd. (株式会社角川書店 Kabushiki-gaisha Kadokawa Shoten) (TYO: 9477) is a well-known Japanese publishing company based in Tokyo, Japan. Kadokawa has published both manga novels and magazines, such as Newtype magazine. In recent years it has expanded into the multimedia sector, namely in video games and movies (as Kadokawa Pictures).
Kadokawa Shoten is the publisher of the manga Cardfight!! Vanguard Manga.
Magazines published
Monthly Ace Next (discontinued)
Manga titles published
.hack//Legend of the Twilight
Cloverfield/Kishin (prequel to movie)
Cowboy Bebop: Shooting Star
Escaflowne The movie: Girl In Gaya
Junjo Romantica: Pure Romance
Martian Successor Nadesico
Miyuki-chan in Wonderland
Multiple Personality Detective Psycho
Shirahime-Syo: Snow Goddess Tales
Tokumei Kakarichō Tadano Hitoshi
Shin Tokumei Kakarichō Tadano Hitoshi
Ad blocker interference detected!
Wikia is a free-to-use site that makes money from advertising. We have a modified experience for viewers using ad blockers

Wikia is not accessible if you've made further modifications. Remove the custom ad blocker rule(s) and the page will load as expected.