The Kagerō (かげろう Kagerou) are a clan from the Dragon Empire nation. They focuses on retiring your opponent's rear-guards, and gaining benefits from doing so. For example, Demonic Dragon Berserker, Yaksha Superior Rides from your hand when one of your opponent's rear-guards is retired during your main phase, and Blazing Flare Dragon and Chain-attack Sutherland increase their own Power when one of your opponent's rear-guards is retired in your main phase. In the second season of anime, Kagerō along with Royal Paladin and Shadow Paladin were sealed away and the Kagerō clan were replaced with the Narukami clan.
Toshiki Kai uses this clan both in the manga and in the first season of anime until it was replaced with Narukami, without any memories of having used this clan. Taishi Miwa also uses a Kagerō deck in the first season and the third season of the anime.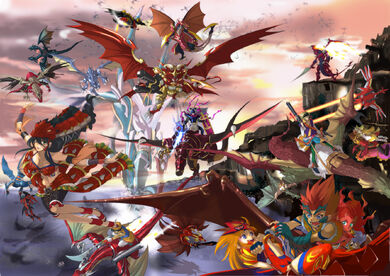 Sets containing Kagerō cards
Booster Sets:
Extra Boosters:
Trial Decks:
Races
Sub-clans
List of Kagerō cards
Grade 0
Grade 1
Grade 2
Grade 3
Grade 4
Trivia
Kagerō in Japanese means "Heat Haze".