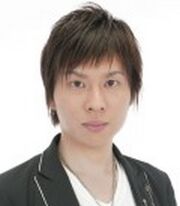 Kenji Akabane (赤羽根 健治Akabane Kenji, born October 31, 1984) is a Japanese voice actor who works for Aoni Production. He was born in Chiba Prefecture. He voices Kenji Mitsusada in the Cardfight!! Vanguard Anime.
Other Notable Roles
Digimon Xros Wars (TV) as Meramon A (ep 7); Teammate (ep 1)
Digimon Xros Wars: Toki o Kakeru Shōnen Hunter-tachi (TV) as Enemy A; Goblimon 2 (ep 12); Guard A (ep 10); Man B (ep 1); Mishima (ep 15); Pumpmon (ep 13); Salaryman (ep 11); Student A (ep 18)
Dragon Ball Z: Plan to Destroy the Saiyajin (OAV) as Saiyajin B (remake 2010)
Hanasaku Iroha (TV) as Flirting man (ep 18); Takeo Takeda (ep 17)
High School DxD (TV) as Priest (ep 5)
(The) IDOLM@STER (TV) as Producer
Senki Zesshō Symphogear (TV) as Sakuya Fujitaka
Shin Mazinger Shōgeki! Z-Hen (TV) as Kōji Kabuto
Space Battleship Yamato 2199 (movie) as Yasuo Nanbu
Space Battleship Yamato 2199 (TV) as Yasuo Nanbu
Star Driver (TV) as Takashi Dai
Ad blocker interference detected!
Wikia is a free-to-use site that makes money from advertising. We have a modified experience for viewers using ad blockers

Wikia is not accessible if you've made further modifications. Remove the custom ad blocker rule(s) and the page will load as expected.