This article is about the keyword. For the song, see: Limit Break (Song)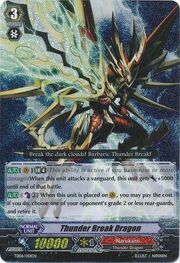 "Limit Break" (リミットブレイク Rimitto Bureiku) is a keyword introduced on the Trial Deck 5: Slash of Silver Wolf and Trial Deck 6: Resonance of Thunder Dragon. It appears marked by something like a clock or speedometer with "LB" and its respective number on it:

/

.
How it Works
A "Limit Break" ability remain active, or it can be used, as long as the number of cards in your damage zone is the number stated (four or five) or more. If the number of damage becomes less than the stated, then the ability cannot be used or disappears.
List of Cards
Sub-names of Limit Break
Trivia
Gallery