This article is about the skill. For the song, see: Limit Break (Song)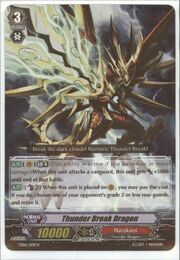 Limit Break is a skill first introduced in the Trial Deck 5: Slash of Silver Wolf and Trial Deck 6: Resonance of Thunder Dragon. This skill required that you have a certain number of cards in your damage zone to activate (like four or more).
Example:
Thunder Break Dragon's ability which is a Limit Break ability (see below), there is "Limit Break 4". Which means the effect only activates when you have four or more cards in your damage zone. So if you have less than four cards in your damage zone, that effect does nothing and will not activate.
[AUTO](VC) Limit Break 4 (This ability is active if you have four or more damage):When this unit attacks a vanguard, this unit gets [Power]+5000 until end of that battle.
Ultimate Break: In some cases, you might see cards with Limit Break 5 (LB5) instead of Limit Break 4 (LB4). These Limit Breaks are called Ultimate Breaks, although it still shows LB. Cards that have this ability are Blue Storm Supreme Dragon, Glory Maelstrom, Dragonic Kaiser Vermillion "THE BLOOD", and Blazing Lion, Platina Ezel.                                                                                    
List of cards with Limit Break
Trivia
Gallery