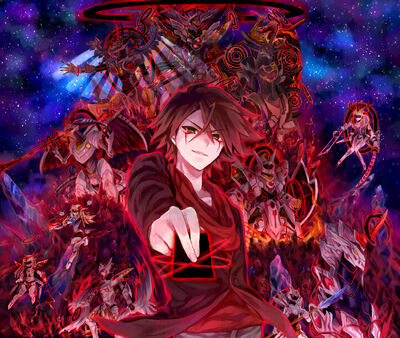 Link Joker (リンクジョーカー Rinku Jōkā) is a clan from the nation of Star Gate which first debuted in Trial Deck 11: Star-Vader Invasion. This clan is used by multiple characters in Season 3 of the Cardfight!! Vanguard Anime and is the avatar of Void. The units in this clan feature black rings with red auras. Its a defensive clan focused on the ability to lock your opponent's rear-guards, making them unable to do anything or be replaced or moved until the end of the target player's next turn.
Sets containing Link Joker cards
Trial Decks
Booster Sets
Races
Unique Races
Sub-clans
List of Link Joker cards
Grade 0 
Grade 1
Grade 2
Grade 3
Trivia
On the cards, Link Joker is colored red unlike all other clans. This is similar to the red coloring of the letter Я that all Reverse cards have, implying that they have a connection, with it being confirmed in various card lores as evidence.
Most of the clan's units are named after elements of the Periodic Table.
United Sanctuary
Dragon Empire
Dark Zone
Magallanica
Zoo
Star Gate
Other