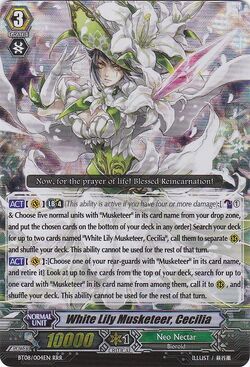 The "Musketeers" (銃士 Jūshi) are a set of Bioroid cards that include "Musketeer" in their card names exclusive to the Neo Nectar clan, introduced in Booster Set 8: Blue Storm Armada. This sub-clan was used by Miguel Torres and Team Battle Weeds in the anime, and Rekka Tatsunagi in the manga. The "Cecilia" archetype is also part of this set.
Background
Who are the Musketeers?
The expert Bioroids that serve only the Guardian Dragon and Lord of the green country, "Neo Nectar". Their body composition is closer to plants compared to any other, and they can fight by extending ivy and vines from their bodies.  As a sign of loyalty, they entrusted their "Heart Flower", the core of Bioroids, to their Lord, and swore to risk their lives, continuing to fight for their Lord as long as they live.
Playstyle
The archetype mainly focuses on maintaining consistent field advantage by retiring their own units to superior call Musketeers from the top of the deck, thus allowing them to exchange weaker units for stronger ones and thinning the deck in the process to increase the odds of drive or damage checking a trigger. Some of their units also return Musketeers in the drop zone back into the deck for even more calls. Following Booster Set 16: Legion of Dragons & Blades, there is also some emphasis on loading the drop zone, so as to provide fodder for both Legion cards and White Lily Musketeer, Cecilia. There are also a few cards whose effects deal with copies of themselves, similar to the Neo Nectar's main gimmick.
Design
This sub-clan is based off of the "musketeer", a type of soldier whose main weapon was a musket. Although most famously known as being French, many different nations had musketeers as part of their infantry. The soldier type of "musketeer" lasted up until World War 1. The cards themselves have designs based on the French style of musketeer, known as the "Musketeers of the Guard", with tricorne hats, adorned with the flower that they were created from, tabards and other noble- and military-style garments, high boots, rapiers, and muskets. Despite being named after the musketeer, only a few of the members in this sub-clan wield muskets. Most wield rapiers, while some wield crossbows. The Fleur-de-lis, however, is missing from most of the member's attire. It is only seen on Black Lily Musketeer, Hermann. The titles used in this sub-clan come from the flower that the unit was created from, while the names themselves come from Latin languages, specifically Spanish, Italian, and French. The titles can be common names of flowers, such as "Red Rose", or the scientific names, such as "Phalaenopsis".
Sets Containing "Musketeer" Cards
Booster Sets
Extra Collections
List of "Musketeer" Cards
Grade 0
| Card Name | Type |
| --- | --- |
| Anthurium Musketeer, Nikla | Trigger unit (Heal) |
| Baby-blue-eyes Musketeer, May Len | |
| Blue Rose Musketeer, Ernst | Trigger unit (Stand) |
| Broccolini Musketeer, Kirah | |
| Freesia Musketeer, Rosalia | Trigger unit (Critical) |
| Gardenia Musketeer, Alain | Trigger unit (Critical) |
| Gypsophila Musketeer, Raisa | |
| Hibiscus Musketeer, Hanah | Trigger unit (Heal) |
| Calluna Musketeer, Elma | |
| Kamille Musketeer, Nicole | Trigger unit (Heal) |
| Lotus Musketeer, Liana | Trigger unit (Draw) |
| Marigold Musketeer, Rachele | Trigger unit (Critical) |
| Night Queen Musketeer, Daniel | Trigger unit (Critical) |
| Red Poppy Musketeer, Marinetta | Trigger unit (Draw) |
| Roselle Musketeer, Randy | Trigger unit (Draw) |
| Cirsium Musketeer, Umbra | Trigger unit (Critical) |
Grade 1
| Card Name | Type |
| --- | --- |
| Amaryllis Musketeer, Tatiana | |
| Anemone Musketeer, Susanna | |
| Artemisia Musketeer, Kiara | Sentinel (Perfect Guard) |
| Black Rose Musketeer, Verneri | |
| Camellia Musketeer, Tamara | |
| Dandelion Musketeer, Mirkka | |
| Hydrangea Musketeer, Ivar | |
| Lily of the Valley Musketeer, Rebecca | |
| Phalaenopsis Musketeer, Kirstie | Sentinel (Quintet Wall) |
| Red Rose Musketeer, Antonio | Sentinel (Perfect Guard) |
| Stokesia Musketeer, Daphne | |
| Snowdrop Musketeer, Pilkko | |
| Tulip Musketeer, Mina | |
| Water Lily Musketeer, Ruth | |
Grade 2
| Card Name | Type |
| --- | --- |
| Carnation Musketeer, Pertti | |
| Cherry Blossom Musketeer, Augusto | |
| Cyclamen Musketeer, Favila | |
| Lily of the Valley Musketeer, Kaivant | |
| Lycoris Musketeer, Saul | |
| Narcissus Musketeer, Joachim | |
| Pansy Musketeer, Sylvia | |
| Peony Musketeer, Toure | |
| Platycodon Musketeer, Evelina | |
| Prunus Serrulata Musketeer, Tessa | |
| Rindo Gentian Musketeer, Antero | |
| Tulip Musketeer, Almira | |
| White Rose Musketeer, Alberto | |
Grade 3
Grade 4