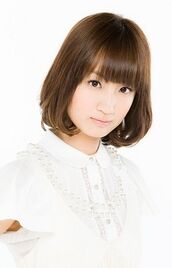 Natsuko Aso (麻生 夏子 Asō Natsuko) (born August 6, 1990 in Tokyo) is a Japanese actress and singer.
She is the singer of two Cardfight!! Vanguard Anime ending songs, Diamond Stars☆ and Fighting Growing Diary.
Biography
Aso began her career playing the role of Chisame in the Negima drama and as a member of the band pRythme. Later, she has appeared in a number of TV dramas and began a solo music career. Her single "Perfect Area Complete" was chosen as the opening song for the Baka to Test to Shoukanjuu anime. She currently presents the second season of Japan In Motion, a show broadcasted on the French TV Nolife.
In 2010 she was a music guest for the French Japan Expo 2010.
Discography
Singles
"Brand-New World" released on May 27, 2009, Shin Mazinger Shōgeki! Z-Hen ending theme
"Programming For Non-Fiction" released on July 23, 2009, Yoku Wakaru Gendai Mahō opening theme, peak rank #83 at Oricon singles charts.
"Perfect Area Complete!" released on January 27, 2010, Baka to Test to Shoukanjuu opening theme, peak rank #18 at Oricon singles charts.
"Everyday Sunshine Line!" released on May 12, 2010, Ichiban Ushiro no Daimaō ending theme, peak rank #72 at Oricon singles charts.
"More-more Lovers!!" released on November 10, 2010, MM! ending theme.
"Diamond Star" (ダイヤモンドスター☆) released on February 9, 2011, Cardfight! Vanguard ending theme.
"Ren'ai Kōjō Committee" (恋愛向上committee) released March 9, 2011, Baka to Test to Shoukanjuu Matsuri opening theme.
"Eureka Baby" (エウレカベイビー) released July 20, 2011, Baka to Test to Shoukanjuu 2! ending theme
"Lovely Girls Anthem" released on February 8, 2012, Tantei Opera Milky Holmes 2 ending theme
"Fighting Growing Diary" released on July 25, 2012, Cardfight!! Vanguard Asia Circuit Hen ending theme
"Parade!" released on October 24, 2012, Ragnarok Online RWC2012 cheer song
"Never Ending Voyage" released on July 24, 2013.
"MoonRise Romance" released on November 27, 2013, Walkure Romanze ending theme
Albums
Movement of Magic released on August 4, 2010
Precious Tone released on October 26, 2011
My Starlit Point released on March 5, 2014