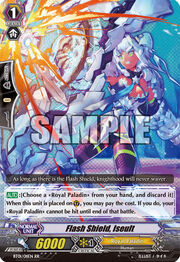 Perfect Guards (also known as "Perfect Defense" in the anime) are units with a special guard skill. The first Perfect Guard units were introduced in Booster Set 1: Descent of the King of Knights.
When a Perfect Guard unit is placed on (GC), by discarding one unit from its own clan, the caller can choose one of their units of the same clan that is being attacked, and that unit cannot be hit until the end of the battle, no matter how much power the attack has.
You may only include up to four Perfect Guard units in a deck due to their "Sentinel" ability. As Quintet Wall units also have "Sentinel", you can only use both types of unit in a deck if the total number is four or less (for example, you may use 2 Perfect Guards and 2 Quintet Walls, or 3 Perfect Guards and 1 Quintet Wall).
List of Perfect Guards cards
Trivia