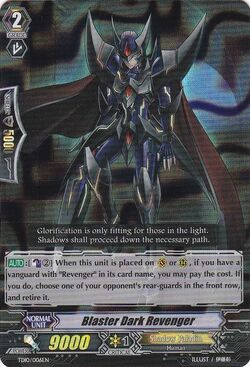 "Revengers" (撃退者 Ribenjā) are a series of cards that include "Revenger" in its card name exclusive to the Shadow Paladin clan. They were first introduced in Trial Deck 10: Purgatory Revenger and received further support in Booster Set 12: Binding Force of the Black Rings, Booster Set 15: Infinite Rebirth, Extra Booster 11: Requiem at Dusk, G Booster Set 3: Sovereign Star Dragon, and G Booster Set 6: Transcension of Blade and Blossom.
Background
The Revengers are...
A team of resolute warriors who are determined to repel the invaders, chosen among the knights of the clan "Shadow Paladin", which work behind the scenes of United Sanctuary. Despite being frequently assigned to dangerous tasks, they do not gain honor, glory or fame from their work, so there are few members in this team. Nevertheless, since all of them are elites with unparalleled willpower and faith, they have become a disciplined force with a high degree of perfection.
List of "Revenger" Cards
Grade 0
Grade 1
Grade 2
Grade 3
Grade 4
Trivia
In Kanji, "撃退者" (Gekitaisha) means "One who repels" or "Repeller", while the actual Kanji for "Revenger" would be "復讐者" (Fukushūsha).
All Revenger units wear red capes.
Ad blocker interference detected!
Wikia is a free-to-use site that makes money from advertising. We have a modified experience for viewers using ad blockers

Wikia is not accessible if you've made further modifications. Remove the custom ad blocker rule(s) and the page will load as expected.