The Royal Paladin (ロイヤルパラディン Roiyaru Paradin) is a clan from the United Sanctuary nation. They have a variety of effects, including Soul Charging, boosting power, and Riding/Calling from the deck but have a main focus that is gaining strength in numbers. The Royal Paladin clan often uses counterblasts to call units from the deck.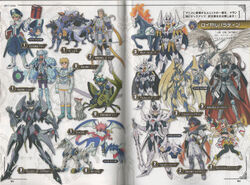 Aichi Sendou uses this clan both in the manga as in the 1st Season of anime, until he started to use Shadow Paladin deck while he is under the influence of PSY Qualia and completely abandons Royal Paladin unwillingly for a Gold Paladin deck instead in the 2nd Season. The Royal Paladin was sealed in second season along with Shadow Paladin and Kagerō. Kourin Tatsunagi also uses a Royal Paladin deck in focused on Fang of Light, Garmore. She returns to use this clan in the 3rd Season, now focused on the Jewel Knights archetype.
Sets containing Royal Paladin cards
Booster Sets:
Extra Boosters:
Trial Decks:
Races
Sub-clans
List of Royal Paladin cards
Grade 0
Grade 1
Grade 2
Grade 3
Other
Trivia
This clan is based on the Knights of the Round Table during the Arthurian period.