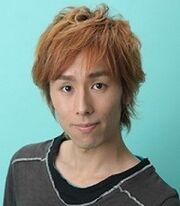 Takayuki Yamaguchi (山口 隆行 Yamaguchi Takayuk, born December 28) is a Japanese voice actor who works for 81 Produce. He was born in Chiba, Japan. He voices Izaki Yuta in the Cardfight!! Vanguard Anime.
Other Notable Roles
Battle Spirits: Shōnen Toppa Bashin (TV) as Man (ep 12)
D.Gray-man (TV) as Cheetah (ep 32)
Dual! Parallel Trouble Adventure (TV) as Kazuki Yotsuga
Dual! Parallel Trouble Adventures Special as Kazuki Yotsuga
(The) Marshmallow Times (TV) as Clove
Nagasarete Airantou (TV) as Teruteru Machou (Machi's shikigami; eps 12, 20, 24)
Ojamajo Doremi Na-i-sho (OAV) as Manabu Takagi
Panyo Panyo Di Gi Charat (TV) as Conceited Man
Parappa the Rapper (TV) as Hockey Player (ep 26); Voice on the Phone (ep 20)
Petite Princess Yucie (TV) as Arc
Pokémon (TV) as Boat driver (ep 192); Toy shop employee (ep 138)
Pokemon Chronicles (TV) as Jubei (ep 12)
Ad blocker interference detected!
Wikia is a free-to-use site that makes money from advertising. We have a modified experience for viewers using ad blockers

Wikia is not accessible if you've made further modifications. Remove the custom ad blocker rule(s) and the page will load as expected.