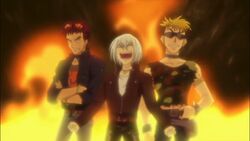 Team Avenger is a team who took part in the Regional Tournament during the first season of anime, Team Avengers was composed of former members of Team Foo Fighter gathered by Kyou Yahagi with the intention of taking revenge on Foo Fighter (and especially Ren Suzugamori) for using and discarding them.
Team Avengers reached the final of the regional tournament, defeating Team Handsome in their semi-final. However, they were defeated in the final by Team Q4. They intended to enter another regional tournament in order to reach the National Tournament, but were prevented from doing so by Brilliant Stars.
Ad blocker interference detected!
Wikia is a free-to-use site that makes money from advertising. We have a modified experience for viewers using ad blockers

Wikia is not accessible if you've made further modifications. Remove the custom ad blocker rule(s) and the page will load as expected.