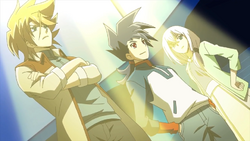 Team Quadrifoglio, or Team Q4 for short, was the main Team in Cardfight!! Vanguard Anime during the Season 1 and 2. According to Shin, their name comes from "Quadrifoglio," Italian for a four-leafed clover.
The team was formed in the aftermath of Shin's shop tournament, to represent Card Capital, consisting of the champion, runner-up, and the two semi-finalists. Unusually for a competitive team, Team Q4 has four members, three main fighters and one relief. Kai served as the team leader, until he quits right after they win their second regional tournament. Aichi later becomes the new team leader throughout the national tournament, and has kept this role even when Kai had returned to the team.
The team fought in their first regional tournament, having won all their matches with two wins in a row, allowing them to reach the finals to face Team Handsome, Aichi narrowly avoiding defeat and winning against Gouki Daimonji.
Members
Season 1
Season 2
Season (GIRS Crisis)
Trivia
"Quadrifoglio" in Italian is the name given to four-leaf clover, synonymous with good luck for Western culture.
All of the members, aside from Aichi had at one time or the other quit the team due to personal reasons, but eventully returned after overcoming them.
All Members of Q4 used a ride chain during season 1 (Misaki used Tsukuyomi, Kamui used Blau, Kai used Amber Dragons, and Aichi used Blaster).
All Members of Q4 used a Cross-Ride During Season 2 which includes former member Kai. (Misaki Used Goddess of the Sun, Amaterasu, Kamui used Ultra Beast Deity, Illuminal Dragon, Kai used Dragonic Kaiser Vermillion "The BLOOD", and Aichi Used Blazing Lion, Platina Ezel
Ad blocker interference detected!
Wikia is a free-to-use site that makes money from advertising. We have a modified experience for viewers using ad blockers

Wikia is not accessible if you've made further modifications. Remove the custom ad blocker rule(s) and the page will load as expected.