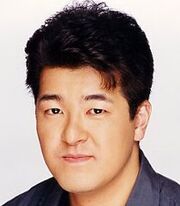 Tetsu Inada (稲田 徹 Inada Tetsu, born July 1, 1972) is a Japanese voice actor who works for Aoni Production. He was born in Hachioji, Tokyo. He voices Tetsu Shinjou in the Cardfight!! Vanguard Anime.
Other Notable Roles
Bakugan Battle Brawlers (TV) as Fafnir
Bleach (TV) as Aikawa Love (vizard); Komamura Sajin
Bleach the Movie: Fade to Black as Sajin Komamura
Bleach: The DiamondDust Rebellion - Mō Hitotsu no Hyōrinmaru (movie) as Sajin Komamura
Blood+ (TV) as Makkoi (eps 12-13)
Coicent (OAV) as Older Brother
Cromartie High School (TV) as Akira Maeda
D.Gray-man (TV) as Richard (ep 29)
Digimon Xros Wars (TV) as Kongoumon
Dragon Ball GT (TV) as Luud
Dragon Ball Z Kai (TV) as Nappa
Dragon Ball Z: Plan to Destroy the Saiyajin (OAV) as Slug (remake 2010)
Full Metal Panic! (TV) as Ryunosuke Akagi (ep 14)
Full Metal Panic? Fumoffu (TV) as Student in TV Drama (ep 7); Waffle
Fullmetal Alchemist: Brotherhood (TV) as Roa
Inuyasha (TV) as Manten; Mukotsu
One Piece (TV) as Brogy; Dr. Potsun (ep 130); G-8 Sergeant (5 episodes); Gorilla; Jesus Burgess; Lapahn; Mr. 1; Patty; Purin Purin; Reik (eps 139-143); Richie; Stool (ep 81); Tylston
One Piece Jidaigeki Special: Luffy Oyabun Torimonocho as Richie
One Piece: Dead End no Bōken (movie 4) as Bobby; Navy Sergeant
One Piece: Django's Dance Carnival (movie) as Colonel
One Piece: Nejimaki Shima no Bōken (movie 2) as Danny
One Piece: Norowareta Seiken (movie 5) as Boss
One Piece: Protect! The Last Great Stage (special) as Jotto
One Piece: The Desert Princess and the Pirates: Adventure in Alabasta (movie 8) as Mr.1
Super Robot Wars OG: Divine Wars as Elzam V. Branstein
Super Robot Wars OG: The Inspectors as Ratsel Feinschmecker
Trinity Blood (TV) as Brother Petros
Vampire Knight Guilty (TV) as Senri's Uncle
Yu-Gi-Oh! (TV 1/1998) as Homeroom teacher (4 episodes); Jounouchi's father (ep 9)
Yu-Gi-Oh! 5D's (TV) as Hideo Izayoi
Ad blocker interference detected!
Wikia is a free-to-use site that makes money from advertising. We have a modified experience for viewers using ad blockers

Wikia is not accessible if you've made further modifications. Remove the custom ad blocker rule(s) and the page will load as expected.