Ad blocker interference detected!
Wikia is a free-to-use site that makes money from advertising. We have a modified experience for viewers using ad blockers

Wikia is not accessible if you've made further modifications. Remove the custom ad blocker rule(s) and the page will load as expected.
"Brawler of Friendship" is the 15th Trial Deck released in the Japanese format. It features the Narukami clan.
This deck along with Trial Deck 14: Seeker of Hope introduce the "Legion" keyword.
This Trial Deck will not be released in English, and instead the cards within it are included in Booster Set 16: Legion of Dragons & Blades ver.E.
Contents
A constructed deck consisting of 50 cards.
The deck includes 1 RRR and 2 R cards.
Includes cards used by Naoki Ishida in Cardfight!! Vanguard: Season 4
Includes a guide and playmat.
The official price is 1,050 Yen.
Video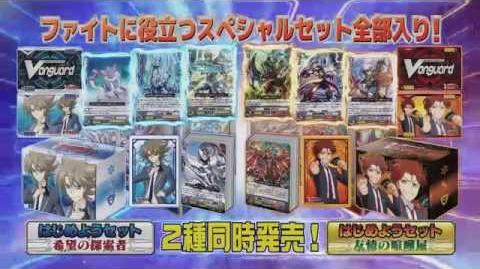 Card List
| Code | Amount | Name | Grade | Clan | Trigger |
| --- | --- | --- | --- | --- | --- |
| TD15/001 | 1 | Brawler, Skybeat Dragon | 3 | Narukami | |
| TD15/002 | 4 | Armed Brawler, Kohiko | 3 | Narukami | |
| TD15/003 | 2 | Brawler, Lightningrod Dragon | 3 | Narukami | |
| TD15/004 | 4 | Jaillock Brawler, Kotenka | 2 | Narukami | |
| TD15/005 | 1 | Brawler, Skyhowl Dragon | 2 | Narukami | |
| TD15/006 | 1 | Brawler, Wildfist Dragon | 2 | Narukami | |
| TD15/007 | 2 | Brawler, Oldhand Dragon | 2 | Narukami | |
| TD15/008 | 4 | Brawler, Lightning Rider | 2 | Narukami | |
| TD15/009 | 4 | Baton Brawler, Sogo | 1 | Narukami | |
| TD15/010 | 4 | Wandering Brawler, Teirin | 1 | Narukami | |
| TD15/011 | 4 | Brawler, Wildclock Dragon | 1 | Narukami | |
| TD15/012 | 2 | Brawler, Starring Dracokid | 1 | Narukami | |
| TD15/013 | 1 | Brawler, Sky Dracokid | 0 | Narukami | |
| TD15/014 | 4 | Brawler, Plasmakick Dragon | 0 | Narukami | Critical |
| TD15/015 | 4 | Brawler, Tokohson | 0 | Narukami | Draw |
| TD15/016 | 4 | Naga Brawler, Sagara | 0 | Narukami | Stand |
| TD15/017 | 4 | Brawler, Green Gem Carbuncle | 0 | Narukami | Heal |
Clan/Grade Breakdown
| Clan | Grade 0 | Grade 1 | Grade 2 | Grade 3 |
| --- | --- | --- | --- | --- |
|     Narukami | 17 | 14 | 12 | 7 |
G Trial Decks
G Title Trial Decks
Mega Trial Decks
Movie Trial Decks