Trial Deck 15: Brawler of Friendship
Comments

369
8,203pages on
this wiki
VG-TD15: Brawler of Friendship



Release Date:

April 18, 2014

Japanese Name:

友情の喧嘩屋(ブロウラー)

Phonetic:

Yūjō no Burourā

Translation:

Brawler of Friendship

Set Gallery Japanese:

Set Gallery English:

Previous Set:

Next Set
"Brawler of Friendship" is the 15th Trial Deck released in the Japanese format. It features the Narukami clan.
This deck along with Trial Deck 14: Seeker of Hope introduce the "Legion" keyword.
Contents
A constructed deck consisting of 50 cards.
The deck includes 1 RRR and 2 R cards.
Includes cards used by Naoki Ishida in Cardfight!! Vanguard: Season 4
Includes a guide and playmat.
The official price is 1,050 Yen.
Video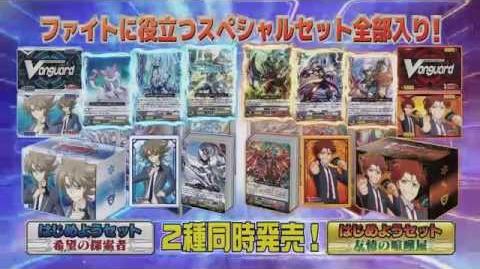 Card List
| Code | Amount | Name | Grade | Clan | Trigger |
| --- | --- | --- | --- | --- | --- |
| TD15/001 | 1 | Brawler, Skybeat Dragon | 3 | Narukami | |
| TD15/002 | 4 | Strong Arm Brawler, Kouhiko | 3 | Narukami | |
| TD15/003 | 2 | Brawler, Lightning Lord Dragon | 3 | Narukami | |
| TD15/004 | 4 | Hell Chain Brawler, Koutenka | 2 | Narukami | |
| TD15/005 | 1 | Brawler, Skyhowl Dragon | 2 | Narukami | |
| TD15/006 | 1 | Brawler, Wildfist Dragon | 2 | Narukami | |
| TD15/007 | 2 | Brawler, Old Hand Dragon | 2 | Narukami | |
| TD15/008 | 4 | Brawler, Lightning Rider | 2 | Narukami | |
| TD15/009 | 4 | Club Brawler, Sogo | 1 | Narukami | |
| TD15/010 | 4 | Wandering Brawler, Taelin | 1 | Narukami | |
| TD15/011 | 4 | Brawler, Wild Cloak Dragon | 1 | Narukami | |
| TD15/012 | 2 | Brawler, Staring Dracokid | 1 | Narukami | |
| TD15/013 | 1 | Brawler, Sky Dracokid | 0 | Narukami | |
| TD15/014 | 4 | Brawler, Plasma Kick Dragon | 0 | Narukami | Critical |
| TD15/015 | 4 | Brawler, Dokouson | 0 | Narukami | Draw |
| TD15/016 | 4 | Naga Brawler, Sagara | 0 | Narukami | Stand |
| TD15/017 | 4 | Brawler, Green Gem Carbuncle | 0 | Narukami | Heal |
Clan/Grade Breakdown
| Clan | Grade 0 | Grade 1 | Grade 2 | Grade 3 |
| --- | --- | --- | --- | --- |
|     Narukami | 17 | 14 | 12 | 7 |