Trial Deck 1: Blaster Blade
Comments

208
6,750pages on
this wiki
VG-TD01 Blaster Blade



Japanese Name:

聖域の光剣士

Translation:

Shining Swordsman of the Holy Land

Release Date:

February 26th, 2011 (JP) and December 3rd, 2011 (EN)

Set Gallery Japanese

Set Gallery English

Next Set:
Blaster Blade (or Shining Swordsman of the Holy Land in Japanese) was one of the first two Trial Decks released in both Japanese and English. It was released alongside Trial Deck 2: Dragonic Overlord.
Contents
This is a constructed deck built of 50 cards.
The theme of this deck are Royal Paladin units.
This set exclusively features Royal Paladin's clan only.
There are 7 cards exclusive to the Trial Deck and 3 Holo cards per deck.
There is Alfred Early in the Thai version of the Trial Deck.
The Trial Deck exclusive cards are:
Video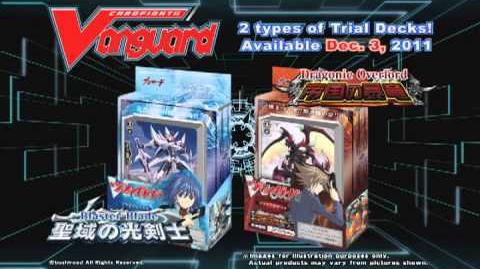 Card List
| Code | Amount | Name | Grade | Clan | Trigger |
| --- | --- | --- | --- | --- | --- |
| TD01/001 | 4 | Crimson Butterfly, Brigitte | 3 | Royal Paladin | |
| TD01/002 | 1 | Knight of Conviction, Bors | 3 | Royal Paladin | |
| TD01/003 | 2 | Solitary Knight, Gancelot | 3 | Royal Paladin | |
| TD01/004 | 4 | Knight of Silence, Gallatin | 2 | Royal Paladin | |
| TD01/005 | 1 | Blaster Blade | 2 | Royal Paladin | |
| TD01/006 | 3 | Knight of the Harp, Tristan | 2 | Royal Paladin | |
| TD01/007 | 4 | Covenant Knight, Randolf | 2 | Royal Paladin | |
| TD01/008 | 4 | Little Sage, Marron | 1 | Royal Paladin | |
| TD01/009 | 2 | Wingal | 1 | Royal Paladin | |
| TD01/010 | 4 | Starlight Unicorn | 1 | Royal Paladin | |
| TD01/011 | 4 | Knight of Rose, Morgana | 1 | Royal Paladin | |
| TD01/012 | 1 | Stardust Trumpeter | 0 | Royal Paladin | |
| TD01/013 | 4 | Bringer of Good Luck, Epona | 0 | Royal Paladin | Critical |
| TD01/014 | 4 | Yggdrasil Maiden, Elaine | 0 | Royal Paladin | Heal |
| TD01/015 | 4 | Weapons Dealer, Govannon | 0 | Royal Paladin | Draw |
| TD01/016 | 4 | Flogal | 0 | Royal Paladin | Stand |
Grade Breakdown
| | | | |
| --- | --- | --- | --- |
| Grade 0 | Grade 1 | Grade 2 | Grade 3 |
| 17 | 14 | 12 | 7 |