Our next card comes from the discussions that have spawned in the wake of Booster Set 7's full card list being shown to the community. A unit whose reveal has been met with Pendragon-level of apathy, the new Dark Irregular ace, Dark Lord of the Abyss.
Dark Lord of the Abyss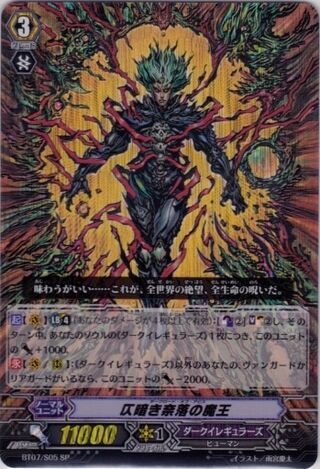 ACT 【V】Limit Break 4 (This ability is active if you have four or more damage): [Counter Blast (2) & Soul Charge (2)] This unit gets Power +1000 for each «Dark Irregulars» in your soul until end of turn.
CONT 【V/R】: If you have a non-«Dark Irregulars» vanguard or rear-guard, this unit gets Power -2000.
The general reaction to Dark Lord goes something like this: "Oh, that's basically like Amon, except I have to actually use a Limit Break to use it. Amon has it all the time, so Amon is clearly superior." Under normal circumstances I'd be inclined to agree. However, Dark Lord has several tactical options to him that Amon does not.
The first is the base 11k. To those who think this is overestimating the value of just 1k more power than Amon, watch Episode 78. If Tetsu was using Amon, he would've needed two guards against Moai. Instead, he needed only one. 1k goes a long way when it comes to defense, which Dark Irregulars need badly. Any DI player will tell you that your hand isn't going to be very large towards the endgame, making every last guard count is crucial. Dark Lord can help you guard with less than you'd need using Amon, and every card saved helps.
The second is the nature of his Limit Break. Rather than being like Amon's CONT skill, Dark Lord's is an ACT skill, meaning it can be used as often as you want during the Main Phase, provided you can afford it. After a confirmation from Bushiroad, we now know that Dark Lord's skill stacks, however it's a bit more complex than it sounds. The boost is static. Say you have 10 cards in the Soul, you use Dark Lord's Limit Break, that puts your Soul at 12 and thus your total power at 23k. Then you use it again, putting your Soul at 14. This gives you a +14k boost, stacking with your existing +12k boost giving you a total of 37k. The amount of each boost doesn't change if the contents of your Soul alter since it isn't a CONT skill like Amon's. Of course, that still doesn't render it any less powerful. The cynics will say "null guards", which is the default response for powerful attacks like this. However, what if you know your opponent doesn't have any? Bermuda and Oracles can get very large hands pretty easily and can just stonewall every attack you throw at them. In a situation like this where you know they have no null guards, Dark Lord's ability to stack his Limit Break can render all those cards ineffectual to stop him or force your opponent to use absolutely everything they have.
Finally we have the second "cost" of Dark Lord's Limit Break. The act of Soul Charging, Dark Irregular's whole focus, is treated as a "cost". Even if you know Dark Lord's powered up attack will be stopped, that extra Soul Charging can help in various ways. For example, Doreen. Each use of Dark Lord's Limit Break gives her 6k. Spread that power out to rear guard columns and your opponent may not be able to stop it all. The second application is with the Witching Hour series. It's obviously a gamble, but if just one of those is Soul Charged, that's an extra 2k and more overall power to be aimed at your opponent rather than just one super powerful Vanguard. Amon can Soul Charge too with a Counterblast, but you have to sacrifice a rear guard to do it. A risky move because, as mentioned earlier, your hand is at a premium when you're playing Dark Irregulars.
So neither Amon nor Dark Lord is better than the other. Amon wins in terms of a consistent power gain but Dark Lord wins in terms of more tactical applications and being a lot easier to defend in a "glass cannon" clan.