You gotta love the internet. As soon as some amazing card is revealed, que the masses crying "It's so broken! The game is ruined! DX". They did it to Ezel and Vermillion and now they're doing it to a starting Vanguard of all things. I am of course talking about the much needed card for the much underloved 'Soulless' Oracle build; Little Witch, LuLu.
Little Witch, LuLu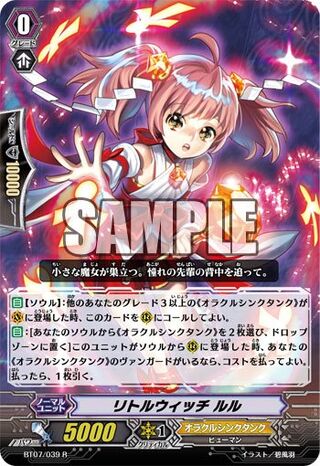 Auto (Soul): When a Grade 3 or higher <<Oracle Think Tank>> appears in the Vanguard Circle, you can call this card to a Rearguard Circle.
Auto (Target 2 <<Oracle Think Tank>> in your Soul and send them to the Drop Zone) When this Unit appears in a Rearguard Circle from the Soul, if you have a <<Oracle Think Tank>> Vanguard, you can pay the cost. If you do, draw 1 card.
From this skill, it's fairly obvious that LuLu is intended to make the use of CoCo much more easier. The paranoid mathmaticians among us have deduced that with this skill and CoCo's Counterblast, 3 cards may be drawn with one ride. And that's it. LuLu is suffering a witch hunt, because she can let you draw 3 cards. Well, let me explain to these mathmaticians why they're making a mountain out of a molehill.
Say you have 4 cards in hand, including CoCo. You ride the CoCo, putting your hand at 3. LuLu's skill activates moving to the rear, emptying the Soul and letting you draw 1 card. CoCo's Counterblast is then used, letting you draw 2 more. This results in a hand of... 6. Meaning that whole thing only yielded a net gain of 2. All LuLu does is replace that CoCo you rode and open up the use of 'Soulless' skills. And even then, unless you run CoCo at a huge number like 4, there's no real guarantee you'll be able to ride CoCo. So it's not a sure thing. Second, as Ezel players are clear to demonstrate to me by going double Limit Break and only calling a trigger and a null guard, anything could be on the top of your deck. You could draw 2 Grade 3 and a Draw Trigger for all you know. That's not gonna help with defense, is it? For those who need further convincing, let me show you some of the other Oracle builds.
Amaterasu Builds
An Amaterasu build (or at least, mine) focuses on looking at the top cards of your deck so you can anticipate what will turn up. Whether or not it's a trigger, a card you'd like to draw with Dark Cat, or a card that you won't feel bad Soulcharging with Red Eye. A strategy which is viciously effective. More often than not, I've just stonewalled opponents with my large hand and then delivered crippling strikes because I knew a Crit Trigger was on top of my deck or reinforced my attacks with a Dark Cat draw since I knew Gemini was on top. Soulless builds can't do this very well. Sure, you could run Cocoa but that's not a sure thing, unlike Amaterasu.
'Soulfull' Builds
A Soulfull build is the anti-thesis of the Soulless build. Rather than emptying the Soul, it focuses on getting 6 cards in the Soul to make use of some of Oracle's most menacing skills. Tsukuyomi here can Counterblast 2 to draw 2 cards and send 1 to the Soul once at 6 Soul. Do this twice and you get roughly a net gain of 2. Just like CoCo and LuLu. Soulfull also has Tagitsuhime; a 12k attacker once at 6 Soul, Euryale; which Binds a random card from your opponent's hand once at 6 Soul, and Blue Eye; which lets you draw a card and send one back to the deck once at 6 Soul for a deck net loss of 0 and letting you stack more triggers at the bottom. All amazing skills and skills that, as far as we know right now, Soulless does not have and can't make use of.
LuLu is a specialist card, meant to allow Soulless Oracles to use their skills easier. She can't really be used anywhere else and really serves to add an edge to a build that has already lost a whole lot with their playstyle. This build needs LuLu as, right now, it's the only true advantage it has over other Oracle builds.