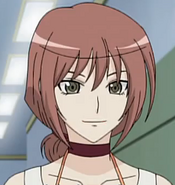 Yuri Usui is a member of Team Caesar, and the sister of Gai Usui.
Appearance
Yuri is an attractive young woman with brown hair and hazel eyes. She wears brown shorts, boots, and the top of her outfit consists of two parts, orange and white.
Biography
Yuri and her team made their professional breakthrough several years before the start of the series winning the National Vanguard Championship several times thus gaining incredible fame from doing so. No other information regarding her past has been revealed yet.

She is known as the "Empress" of Team Caesar. While outwardly she projects an air of grace, Yuri is ruthless in her fights and has no time for pretense. She often criticizes her brother's playstyle, considering him the weak point in Caesar, She does the same to her opponents (to a much lesser extent) like how she criticized Misaki that she played to much with her head instead of her heart. Her deck uses Miracle Beauty as a rearguard, which uses its skill to stand the unit behind it when it stands as planning toward making multiple attacks. She easily lost against Pajeel Ali during the VF Circuit.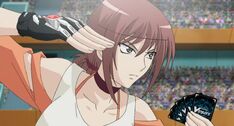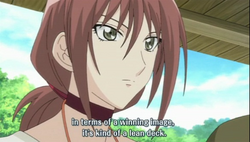 Deck
Yuri uses a Dimension Police Deck.
These are the confirmed units in her deck as of episode 55.
Trigger Units
Starting Vanguard
Grade 1
Grade 2
Grade 3